"I don't really come up with any plan of what I'm going to paint – it just comes out." says Aarav, the young genius of SNS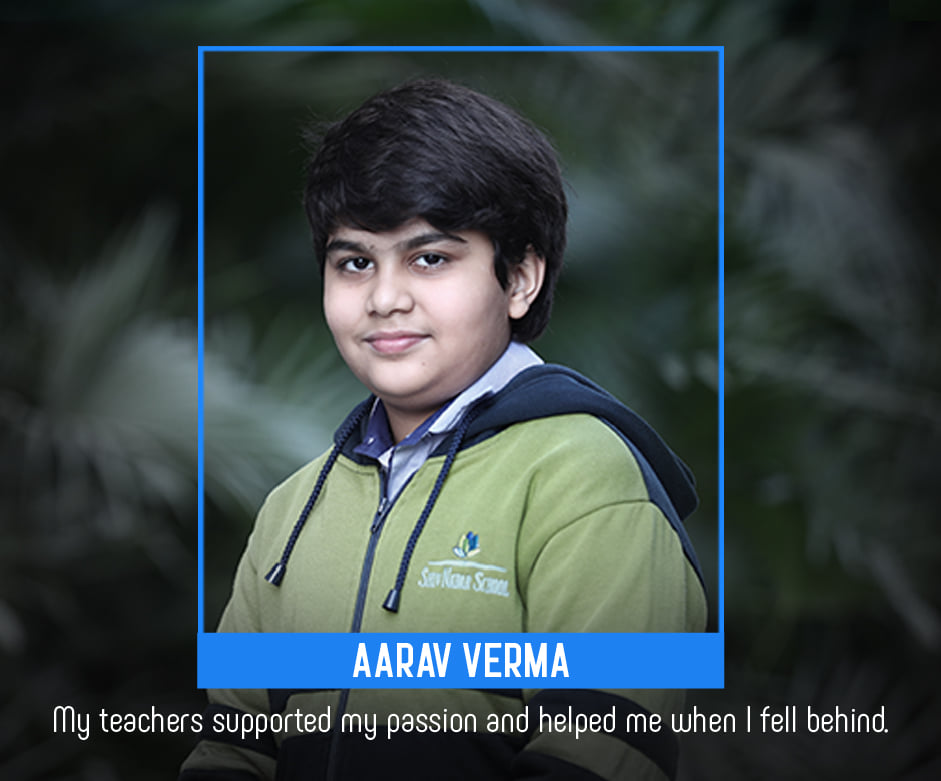 As a child, when Aarav would pick up his pencil and scribble expressions on a piece of paper, people would often get scared. His dark textures, confident strokes and non-conformist depictions of life, people and places, bothered some, but not his father– his biggest fan.
"His art is unusual, but nothing negative, I never felt it. We all have a mixed bag of emotions, and that is what his work shows. I only see honesty in his art, a sense of purity," says the boy's father, Yogesh Verma. He adds that he always believed that his son was trying to create something unique and that eventually caught the eye of several art enthusiasts and artists.
Today, this 13-year-old child prodigy is not only making his presence felt in the top art circles but is also raising lakhs to help people in crisis.
Aarav Verma, a Class 8 student of Shiv Nadar School, Gurugram, has never learned to paint, nor is he inspired by a prominent artist.
"He started painting at the age of 3, and since then he has only focused on creating figures, human faces and expressions, not the usual trees or birds. His work is original, and I didn't want to spoil his spontaneity by pushing any influence or formal training. Hence, he has never learnt to paint, till date," says Yogesh.
Aarav landed his first exhibition at the age of 7, at the Indian Habitat Centre, New Delhi in 2014. Since then, his paintings have been displayed at several locations including Mina Zayed, Abu Dhabi in 2015, and recently, the Art Fair in New Delhi.
One of Aarav's most striking achievements dates back to October 2017, when he united with Grammy-award winning sitar maestro Ustaad Shujaat Khan, to create a confluence of sitar recital and artwork. Standing on the stage, up close to the legend, Aarav let his paintbrush move with the notes of the ragas breathing life to an empty canvas.
Talking about the unforgettable performance, he recollects, "I had not decided what I wanted to paint; I wanted to follow the mood and the music of the evening."
This artistic collaboration helped raise Rs 55,000 from the sponsors, which was then donated to the Shri Ram Krishna Cancer Hospital, Deoband. "This was the first time that his painting was auctioned off. It helped cancer patients get free treatment," says Yogesh.
This was then followed by another campaign to raise money for Kerala flood victims in 2018. At the campaign, Faber Castell bought his painting for Rs 3 lakh.
Till date, the 13-year-old child prodigy has raised Rs 5 lakh for various social causes, all through his artwork.
A constant in Aarav's work is his free-form pattern, which is incapable of confinement within defined labels or boxes. On his canvas, he creates a space he knows, but cannot speak about, as words would fall short of conveying the bounty of inspiration and emotion captured within them.
And it was this freedom that led Yogesh to enrol Aarav to the Shiv Nadar School in 2014.
"At the Shiv Nadar School, Aarav is never treated differently. He is neither given special treatment for his artistic accomplishments nor is he forced to conform to conventional standards of education. There he is just another kid who is encouraged to be better at whatever he does, and is disciplined whenever needed," he explains.
The Shiv Nadar School is part of the Shiv Nadar Foundation, which was started by Shiv Nadar, the Founder and Chairman of HCL Enterprise in 1994. The aim of the foundation is to bridge the socio-economic gap in society by empowering individuals. Since then, they have touched thousands of lives for good. The school believes in swimming against the tide of conventional textbook practices to create a space for the holistic development of its students.
Here, the students trump over the curriculum, as it delves deeper into personalised learning methods to make every student enjoy education. And, in Aarav's case, it does just that, by having supported him every step of the way to pursue his dream.
Talking about it, Yogesh adds, "With the exhibitions and fundraising programmes, Aarav might sometimes miss out on classes or notes. But, the school works with him and keeps him on track with the other students. From the principal to the teachers, Aarav's success has a lot to do with their support and love."
Aarav is genuinely an artist born, not made. Today, with more than 400 art pieces, solo art exhibitions and live collaborations with musical stalwarts like Ustaad Shujaat Khan and Paras Nath, the young artist has indeed come a long way, but not quite enough.
With endless ideas bursting within the quiet demeanour, this young reservoir of talent can indeed look forward to a bright future!