Sometimes, all it takes is the courage to come out of your shell; Viswanath's journey of success is nothing but laudable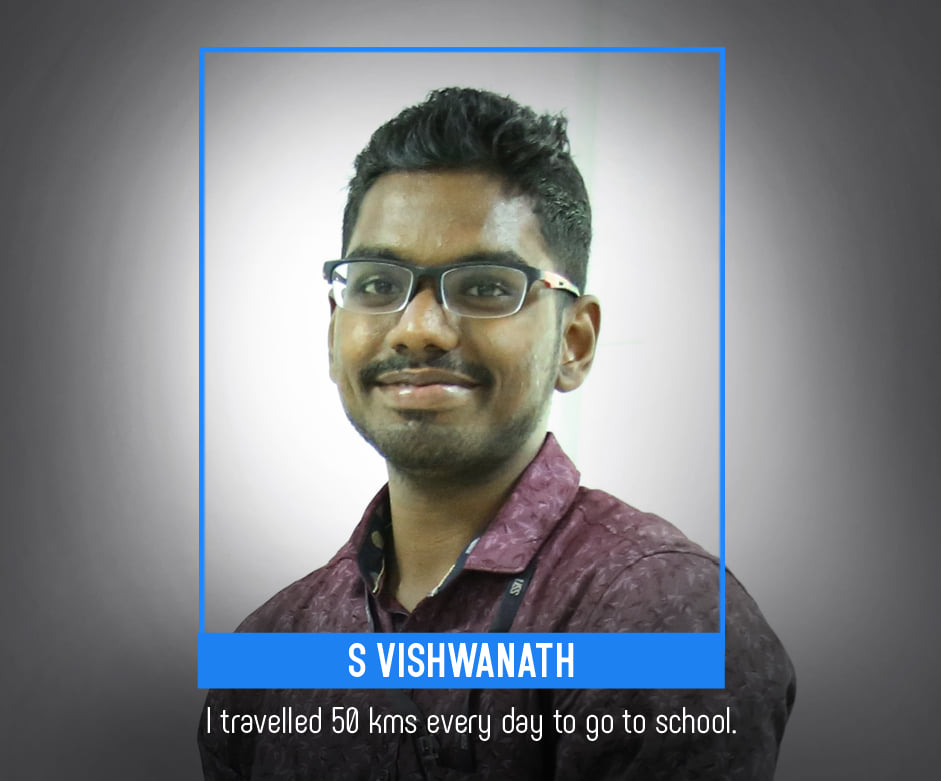 For a young Viswanath, every single day was a challenge. Living in the outskirts of Chennai, about 35km from the city centre, he would wake up early in the morning to embark on a 2-hour long journey to his school.
His day would start with his uncle dropping him at the station, followed by a train ride, and finally a cycle ride to school. While returning, once again, he would have to undergo the same ordeal, which was sometimes worse.
"Travelling to school would take me almost two hours, and half of my life seemed to be spent on the road⁠—on the way to school or returning home. I had to make some good use of that time," he says.
That was how people started finding this young boy hiding behind books and studying – at platform corners, in stuffed train compartments, and even in overflowing buses. He'd either be preparing for his classes or exams. He also prepared for his board exams in this manner!
Today, 21-year-old Viswanath is a project associate at IIT Madras. And it has been quite a journey.
Talking to The Better India, he recalls, "I always wanted to pursue medicine, but my marks were not enough to make the cut. I wasn't ready to give up, so I decided to pursue biomedical engineering. Sri Sivasubramaniya Nadar (SSN) College was one of the best, and I applied for it. Sadly, I was a bit late, and the last seat was occupied. I had to take admission in another college instead and pursue biotechnology. But, just a few days into the college, I got a call from SSN for an interview. I was completely unprepared, but I went there, convinced them of my passion for the subject and made it!"
Founded by Shiv Nadar, chairman of HCL Technologies, in 1996, SSN College of Engineering is one of the premier institutes striving to make a positive difference to society by imparting education to students from diverse socio-economic backgrounds.
Once he joined SSN, things began to change for Viswanath. Within a year, a professor encouraged him to apply for the Internal Funding for Students scheme, whereby students can be sponsored for a project of their choice.
He soon came up with a project proposal for external aid to support Amyotrophic Lateral Sclerosis (ALS) and head-dropping syndrome patients. Along with his partner Praveen, Viswanath managed to get the grant and developed, 'Chin Up', an external supporting device designed for people with head drooping conditions like Cerebral palsy, ALS etc.
"One of the most difficult steps towards starting Chin Up was the proposal presentation. I've always been afraid of public speaking, and this was a big deal for me. But somehow, with the support and motivation of Prof Dhanalakshmi and my partner, I overcame it," adds Viswanath, who went on to create several other award-winning products in the area of rehabilitation and assistive devices.
By the time his batch graduated, he was the only BE student to have taken part in four internally-funded projects in the history of SSN!
"This college has given me a lot. Not just in terms of academics but also personality building. The kind of encouragement received from the professors helped me to take on the bigger steps of my life confidently," he says.
Later, the SSN faculty aided him in patenting four designs through the student and cohesive faculty patent filing system.
Another recent feat for Viswanath was when his research paper got published in the National Journal of Laboratory Medicine in March 2019.
"At SSN, a lot of emphasis goes on nurturing the leadership qualities of individuals. It's not just about how good you are in academics, but how well you manage your time by balancing research and academics, while also handling responsibility and indulging in decision making through strategic planning and execution," says Viswanath.
Today, his achievements not only illuminate the legacy of the institute but continues to inspire the youth, reminding them a simple but powerful truth⁠—hard work and perseverance always pay off.
One of the first initiatives by The Shiv Nadar Foundation, the SSN Institutions have been driving social change through education for the last few decades now. Under the tutelage of the foundation, students like Viswanath have grown up to be leaders!