Story of Narendra Kumar, the son of an agricultural labourer is a perfect example of 'life is what you make it'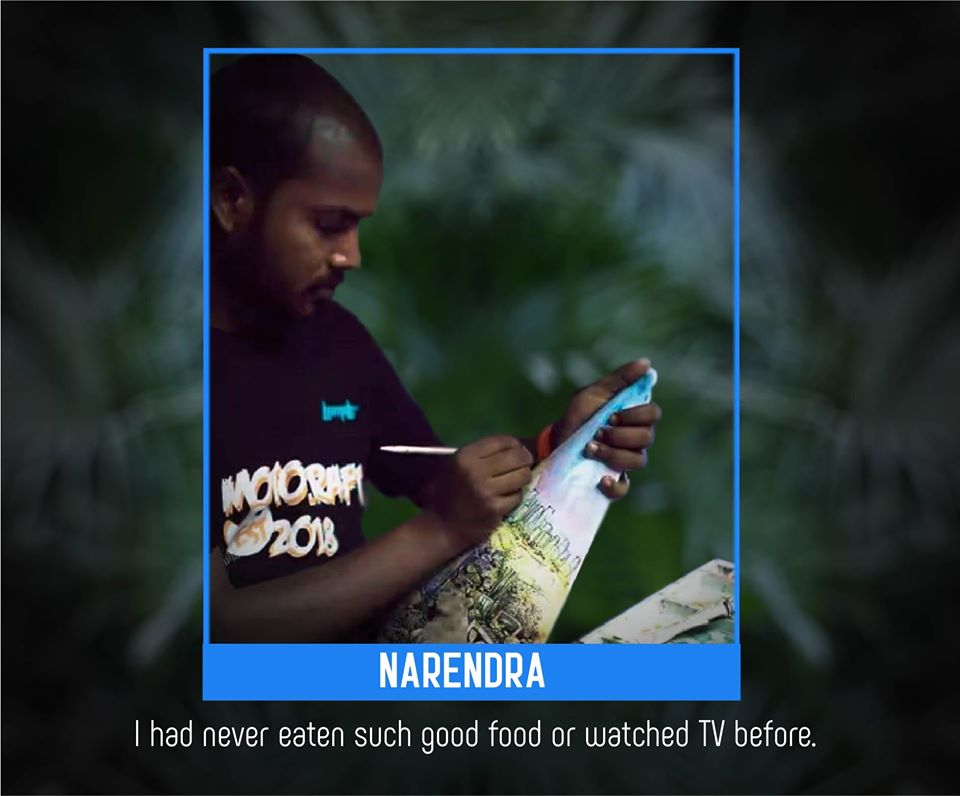 When Narendra Kumar passed his Class 12 board exams, it was a historic moment. He was the first person in his family to have ever reached that level of qualification. Moreover, with a score of 94%, he had done it with flying colours.
But there was an accompanying element of confusion — this young boy from a farmer family living in Peernagar Soodna village of Uttar Pradesh had a big and unconventional dream.
He wanted to be an artist.
"My parents were initially upset when I told them about my plans. I was a good student, and people expected me to take up a more conventional career path. But, the calling inside 0me would not let me do so. My family took time, but eventually understood," says Narendra.
He comes from a family of nine members, five sisters and one brother, supported by parents working as agricultural labourers in the village.
"We somehow made ends meet, but my father always kept low expectations for the future. When he found out how my school teachers had pushed me to apply to study at VidyaGyan, he asked me not to build my hopes up. He asked me what if I didn't get in? And, I answered saying then I would work in the fields just like him. I still remember how angry he was at that statement, and had even slapped me because he always wanted better for us," he recalls.
But as a student, Narendra didn't even know about VidyaGyan. It was his teachers that filled the form for him and helped him pursue a better life there.
An initiative of the Shiv Nadar Foundation, VidyaGyan is a platform to identify and nurture gifted students from economically challenged backgrounds by providing the best possible education, to transform them into future leaders.
"Luckily, I got in, and everything a student wants was made available to me. Starting from getting good food, to meeting intelligent students and supportive teachers, at VidyaGyan, my life was very different and better. My family was very proud," mentions Narendra who joined VidyaGyan in Class 6.
Iit was during his time at VidyaGyan that Narendra recognised his passion.
"I was always interested in extra-curriculars, and I did it all while balancing my academics. But it was my art teacher, Mr Devender Sarkar, who helped me recognise my passion for arts. I remember how excited and happy I was when I won my first ever painting competition while I was studying in Class 8. And, it was just the beginning. I progressed in the area with sir's help and guidance, while also keeping my studies afloat," he adds.
Mr Sarkar not only trained him but also helped him build his portfolio and prepare for entrance exams in art schools. Narendra cracked almost 3-4 top art colleges, along with the London College of Fashion Designing. Although he was interested in going to the latter, he was restricted by financial constraints.
"It is sad that I had to let go of such an amazing opportunity which students from all over the world compete for. But, with a little bit more introspection, I realised fashion designing would have been a deviation for me. So, I instead decided to pursue a BFA at Jamia Millia Islamia in New Delhi," says Narendra who scored the fifth rank in the entrance exam.
Currently, Narendra is a final year BFA student and has won various prizes and scholarships.
"I have received the best possible guidance here. I know this is not the usual kind of career choice, but my parents appreciate it now. Alongside my studies, I try and do commissioned work and other shows, and send the money home to help my parents out as much as I can," he says.
He plans to study further and complete his Masters. But the larger dream for this upcoming artist is not just to gain fame, but to also give back to society.
In accordance with the Shiv Nadar Foundation's principle, Narendra wants to eventually start an art school for children from impoverished backgrounds.
"Art should not be restricted just for the affluent. Afterall, lotus always blooms in the 'kichad' (mud)!"