The history enthusiast who wants to change the future of our nation with her knowledge and experience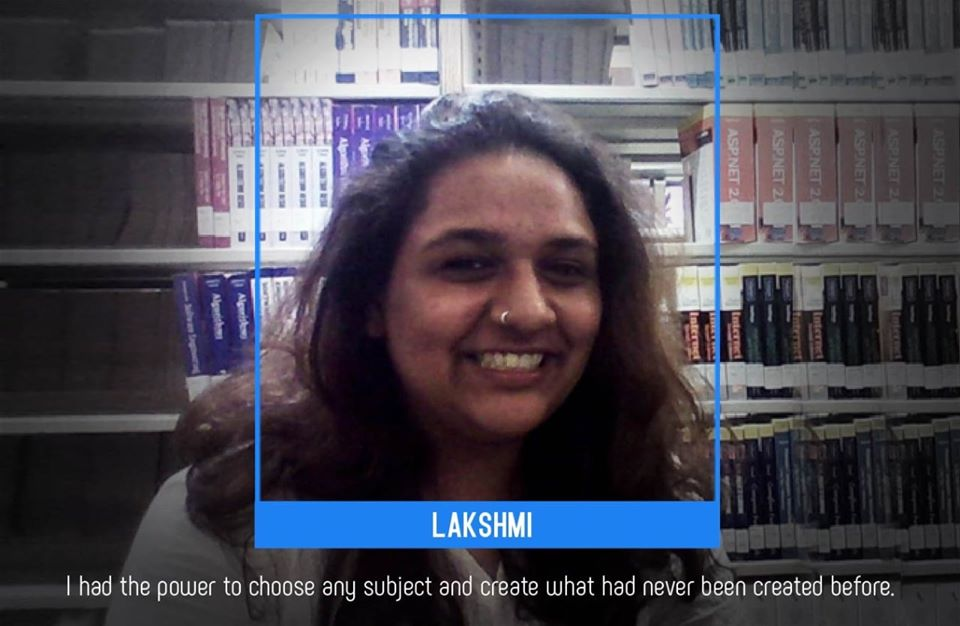 Always fascinated with the history of her country and the world as a young girl, it did not come as a surprise to anyone when Lakshmi Ravi pursued the subject in college. And, yet in the pursuit of completing her graduation, she came across the unexpected.
"I wanted to have an enriching academic journey by studying history from various lenses. But, I thought it would be much like a school where you get a limited number of subject options to choose from. At SNU, my perspective was completely changed when I saw the plethora of possibilities. I could choose from hundreds of subjects and create never-before-done combinations as well. That kind of freedom and interdisciplinary scope totally blew my mind," says Lakshmi, who joined Shiv Nadar University (SNU) in 2014, in the founding batch of BA History.
Keen interest in diverse topics led her to study film studies and communications, International Relations, English Literature, Sociology, Management and Marketing, Performing Arts, storytelling and writing.
SNU is not just another educational institute striving to create high-quality education. It is also motivated to empower individuals and communities through a legacy of students who make the best use of their potential in a liberal atmosphere.
Founded in 2011, in Dadri, Uttar Pradesh, SNU is a comprehensive, multidisciplinary, research-focused, and student-centric University offering a full range of academic programs at the undergraduate, postgraduate and doctoral level. With emphasis on discovery, innovation and social relevance of education, SNU is not just shaping brilliant academicians but future leaders.
"At SNU, apart from the core courses, students are given another set of subjects under the CCC programme (Continuous Compulsory Courses). Here we have to complete 8 subjects out of a pool of 30-40 subjects. In addition to this, there comes University Wide Electives that allow a student to expand their academic exploration through various departments, forging unique intellectual connections," adds the 23-year-old.
Now pursuing her Masters in Public Policy and Design Thinking from the Indian School of Public Policy (ISPP), Lakshmi recalls her days at SNU, that shaped the person she is today.
"I was never interested in studying History in isolation, and my professors at SNU understood that. I was extremely lucky to have met Dr Shrinoy Roy Chaudhary, one of the faculty members who realising my inclination to know more, invited faculty members from other disciplines to enrich the classes with their diverse perspectives. That made me understand how the teachers were personally invested in each and every child, contributing immensely in making their education and careers a success," she says.
After graduating in 2018, Lakshmi spent almost a year putting all this experience to use at Syngenta Foundation, where she worked as the Communications Coordinator. From making documentary films to creating grassroots content, Lakshmi's experience at the foundation finally pushed her toward yet another unconventional path, of using Design Thinking in Policy Making.
"My father is already in Policy Making. I want to use my knowledge and experience in Design Thinking to help make policies more human-centric than ever," says Lakshmi.
<p?>Living up to the Shiv Nadar Foundation's core principles, Lakshmi also wants to bring substantial changes to the society through her educational qualification and expertise.
</p?>