Economic Times: Mr. Shiv Nadar Pioneering Philanthropy in 2023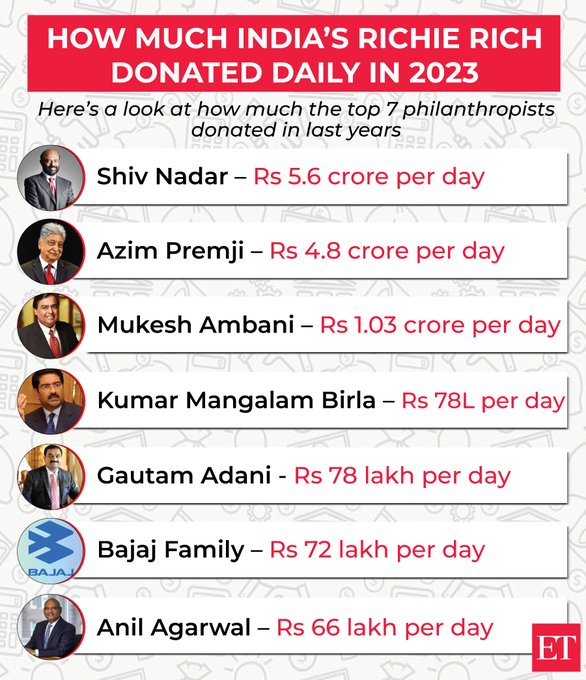 In the world of philanthropy, there are individuals whose contributions stand as beacons of hope and progress. One such respected and revered name is Mr. Shiv Nadar's. According to the 2023 Philanthropy Rankings, Mr. Nadar's contributions have surged by a staggering 56%, amounting to an awe-inspiring Rs 5.6 crore a day. This remarkable feat cements his status as a trailblazer in the world of philanthropy.
One of the most significant aspects of Mr. Shiv Nadar's philanthropic endeavors lies in his unwavering commitment to education. Through his generous donations, Mr. Nadar has played a pivotal role in driving literacy programs in India. By focusing on the foundational pillar of education, he aims to empower future generations with the tools and knowledge they need to thrive in an ever-evolving world.
A standout feature of Mr. Nadar's philanthropic vision is his emphasis on digital transformation in education. Recognizing the transformative potential of technology, he has directed substantial resources towards initiatives that leverage digital platforms to enhance learning experiences. This forward-thinking approach not only addresses the immediate needs of students but also prepares them for a future driven by technology and innovation.
Mr. Nadar's contributions have rippled through the education sector, creating a profound impact on the lives of countless individuals. His initiatives have paved the way for innovative educational models, equipping students with the skills required to excel in a globalized, digitalized world.
Beyond the numbers, Mr. Shiv Nadar's philanthropic journey serves as an inspiration to us all. It highlights the immense potential for positive change when passionate individuals commit themselves to making a difference. His dedication to education and digital transformation sets a powerful precedent for future philanthropic efforts, encouraging us to consider the lasting impact we can achieve through strategic and heartfelt giving.As we reflect on Nadar's remarkable contributions, we are reminded of the transformative power of the many initiatives under his philanthropic foundation, the Shiv Nadar Foundation. By prioritizing education and embracing digital advancements, he has not only improved individual lives but has also catalyzed progress on a broader societal scale. His legacy serves as a testament to the enduring impact that philanthropy can have in shaping a brighter, more inclusive future for us all.