From traffic lights to a walking stick, it's been a wonderful year.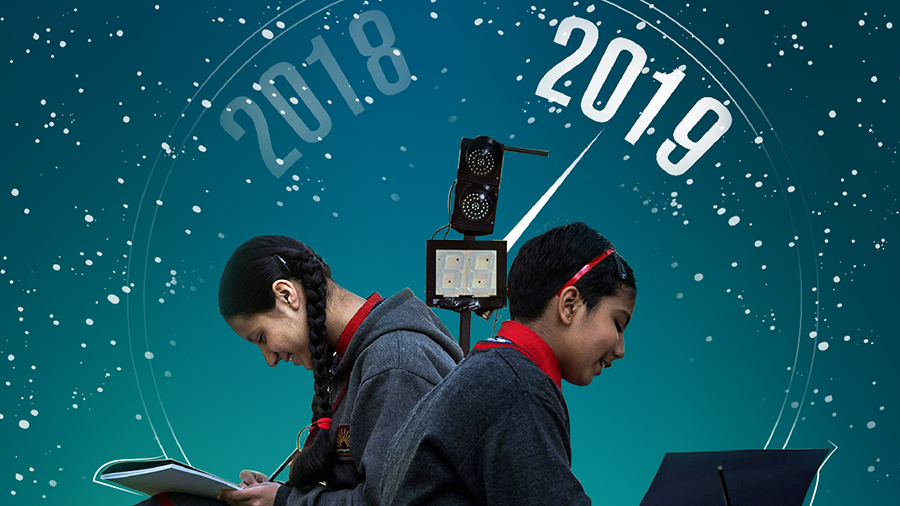 A philanthropic enterprise is like a tree. Years of effort are devoted to it, in the hope that it will bear fruit. Eventually the time comes, when we begin to see the rewards. For us, 2018 has been particularly fruitful. Some of the fruits may at first glance appear to be small, but they represent a promise of plenty.
Four Class XI students from Shiv Nadar School, Gurugram learnt about micro controllers and image processing systems in their Robotics class, and decided to put this knowledge to use. They created an intelligent traffic light. The traffic light reacts to real time traffic density to vary signal durations and reduce transit time for vehicles. It uses a high quality night-vision camera to take pictures of traffic every five seconds. The micro controller then counts the number of vehicles, and adjusts the red/green light distribution accordingly. It saves fuel, reduces travel time and costs just Rs. 20,000 to produce – a fraction of the cost of a regular traffic light.
Not to be left behind, the Class VII students of VidyaGyan have started project 'Raja the Great'. No one is quite sure where the name of the project came from, but its purpose is quite clear. After their science teacher inspired them to do something for the visually challenged, a group of them have developed a walking stick with Infra Red sensors, Vibrators and PVC pipes. Powered by a platform called Arduino, it helps a visually challenged person to avoid obstacles. Experts are calling it a breakthrough in assistive technology.
Meanwhile, a group of four young ladies at SSN Institutes has been busy revolutionising the field of prosthetics. Prosthetic limbs typically weigh between one and three kilograms. These Bio Medical students, supported by their Head of Department, have created one out of recycled plastic that weighs 800 grams. It's also functionally better, allowing for better controlling of fingers through seven mini motors installed in the palm region. It conforms to all international standards. It costs $1,000 dollars to make, as opposed to the $100,000 market price of imported models.
Beyond science and engineering, we were privileged to see an example of how art can play a role in transforming mindsets. Kiran Nadar Museum of Art, in collaboration with the Indian Army, reached out to four schools in the Baramulla district of Kashmir. Fifty students from these schools participated in 'Imaginarium', a four-day creative adventure in drawing, painting and self-expression. Since then, several of the schools have reached out to us, wanting to know when the next session will be.
In the village of Maheshpur in Uttar Pradesh, we were witness to a small miracle. Our first ever batch of eight adult male members participated in the Shiksha program. This program uses information technology, a dedicated staff, and interactive computer-based tutorials to help eradicate illiteracy. Adult males in villages have traditionally faced stigma in trying to study at an advanced age. In addition, many of them are daily wage earners; so finding the time for such activities is a challenge. These first eight students are a small victory, and, we hope, a sign of bigger things to come. We salute them for their courage and commitment.
2018 has been a wonderful year for us, a year which has confirmed our abiding faith in the transformational power of education. We could not have achieved this without your support and goodwill. We owe you our thanks, and wish you the very best in 2019. We hope that you will approach it with the same spirit of optimism that we are.