Trailer of the award winning film HALKAA unveiled by the Hon'ble Minister of Housing and Urban Affairs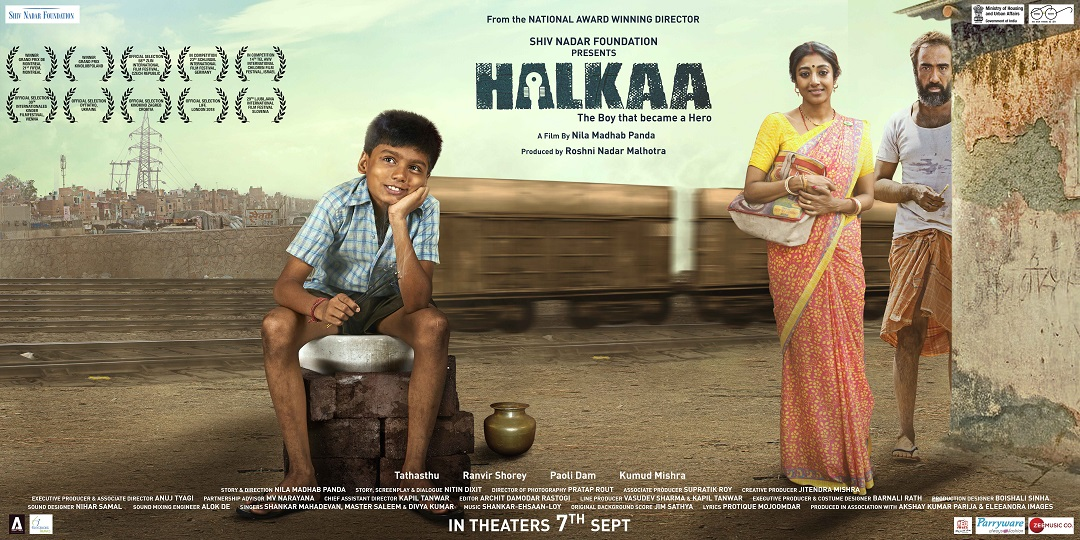 6th August 2018, Delhi: The capital today saw the coming together of Shri Hardeep Singh Puri, Hon'ble Minister of Housing & Urban Affairs; Mrs Roshni Nadar Malhotra, CEO of HCL Corporation & Trustee of the Shiv Nadar Foundation; Shri Durga Shanker Mishra (Secretary, MoHUA) along with the cast & crew of the internationally acclaimed film Halkaa as they launched the most awaited trailer of the movie amongst 200 city kids.
Directed by National Award winner Nila Madhab Panda and presented by the philanthropic Shiv Nadar Foundation in association with Akshay Kumar Parija films, the movie features child actor Tathastu as Pichku and Ranvir Shorey and Paoli Dam as his parents. The film that has travelled to over 15 global platforms essays the story of a slum child's dream to free himself from open defecation and have a toilet of his own. It's a story of his heroism and aspirations.
The Ministry of Housing & Urban Affairs has associated with the film for the strong resonance of its subject. "We are delighted to be partnering with this film. It is simple stories like this that leave a lasting impact and we believe Pichku's journey of building his own toilet needs to be seen by everyone out there. He is our hero in the truest sense of the word", said Shri Hardeep Singh Puri, Hon'ble Minister of Housing & Urban Affairs at the trailer launch.
Roshni Nadar Malhotra expressed her delight in being associated with a film, the first being presented by the Shiv Nadar Foundation, which is a strong reflection of our society, yet entertaining and inspiring in its approach.
"The Shiv Nadar Foundation is delighted to be a part of this film that charts the personal war of a young child against the social issue of open defecation. His mission to not only transform his life but that of several others around him, mirrors the Shiv Nadar Foundation's belief that transformation begins with one person or one child addressing one issue at a time. We hope that this movie inspires others to reach for their dreams and achieve them", said Roshni Nadar Malhotra.
The event also saw a lovely performance of the film's title track by music directors Shankar, Ehsaan and Loy that left the audience crooning to the soulful track. They said, "Music is integral to the narrative of this film and we are proud to be associated with a film of this manner that brings out a socially relevant topic in a light hearted and entertaining way".
"I strongly believe that this film will leave a lasting impact in the hearts and minds of audiences not just for the audacity of its subject but also for the joie de vivre with which the protagonist overcomes the adversity he faces. We have received so much love for this film across international film platforms and we can't wait for audiences in India to see this labour of love", signed off the director, Nila Madhab Panda.
Watch the trailer of the film – https://www.youtube.com/watch?v=MN8kCQhTMYE
Halkaa releases across India on 7th September 2018