A fusion of Art and Science helped Bhargavi re-discover her love for dance at SNU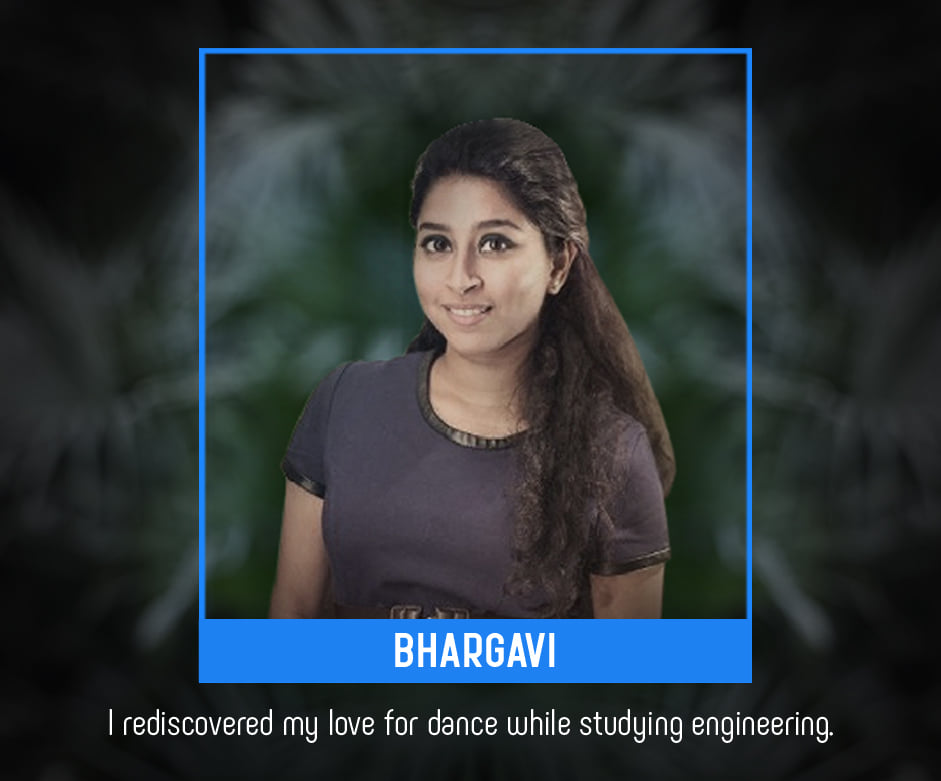 Growing up, Bhargavi Gopalan was a quiet and shy child sitting in a corner. She was comfortable being in the shadows, away from the crowds, away from the spotlight.
But, in contrast, there was only one place where she felt at ease — the stage when she'd be dancing.
It was a safe space where she could be unabashedly herself. Dance was one of the few avenues that allowed her place where she could express herself without any fear. And so once on the stage, with every graceful movement and the transition of mudras, she would transform into a beautiful and confident person
Despite this, she never wanted to pursue a career as a performing artist.
"I loved dancing, but I wanted to do more with it than perform. Also, I was very much inclined to pursue science for my higher studies," Bhargavi shares with The Better India.
As a person who was determined to carve her path, Bhargavi found the answer to her dilemma at the Shiv Nadar University (SNU), an interdisciplinary research university founded by the Shiv Nadar Foundation.
The Shiv Nadar Foundation was started by Shiv Nadar, the Founder and Chairman of HCL Enterprise in 1994 with an aim to bridge the socio-economic gap in society, by empowering individuals. Since then, the foundation has touched thousands of lives for good!
"I started learning dance at the age of 7, and since then, it has been an integral part of my life. While I wanted to explore other fields, I didn't want to part away from dance as well. So, after the 12th boards, when I began searching for colleges, I came across this minor-major concept of subject choices at SNU. Here, I could study engineering while continuing education and training on dance. It was perfect for me!"
In 2012, Bhargavi joined SNU with a major⁠—BTech in Electronics and Communications Engineering⁠—and a minor⁠—Dance⁠. She was the first one to take up this combination in the entire university.
"I knew that I had to carve my niche when I opted for this combination. It is probably the similarity and the overlaps between dance and science, which motivated me to pursue it. And, I feel my faculty at SNU saw that and supported me every step of the way. For the first time, I could feel a very different connection to dance, much beyond the performance. It was like rediscovering myself," says Bhargavi.
Founded in 2011, in Dadri, Uttar Pradesh, Shiv Nadar University is a comprehensive, multidisciplinary, research-focused, and student-centric university offering a full range of academic programs at the undergraduate, postgraduate and doctoral levels.
The university is known for its interdisciplinary approach to education. For undergraduate students, it has a unique programme called Opportunity for Undergraduate Research (OUR). It has helped hundreds of students like Bhargavi figure out what they genuinely want to do with their careers.
In her case, she chose the road less taken, one which leads to Dance Science.
A scientific study of dance, it involves exploring the body performing the art through the lens of psychology, physiology, biomechanics, somatics, and so on.
"Engineering helped me see that our bodies are nature's best-designed machine, and dance allowed me to explore the endless possibilities of using this machine. Dance Science brought together the quantitative side of engineering and the qualitative side of dance," she explains.
This new academic paradigm can potentially improve our understanding of the art as well as the techniques involved and the ways to integrate safe practices among amateurs and professional dancers.
Although an entirely new field, Bhargavi says that dancers have been more or else aware of its concepts much before the existence of dance science.
"People might not know the term, but every dancer has unconsciously used its concepts to practice the art, for a long time. Its importance, however, might have been hidden and now with this knowledge, we can take dance to another level," says Bhargavi.
After her BTech, she went on to get a postgraduate degree in Dance Science, in 2016 from the University of Bedfordshire, UK. Currently, she works as a freelance dance science consultant and trainer and is also working on creating a website for dancers and dance enthusiasts.
"Initially, my parents were surprised by my decision to pursue dance science. But, they soon realised my passion and its future potential. Observing, understanding and analysing the human form involved in dancing is what fascinates me, especially because it gives me the power to help performers give their best by preparing the body for a certain dance and so on," she adds.
Despite her substantial exposure to ballet, Bhargavi specialises in training only Bharatnatyam and Odissi dancers. She feels that for a successful dance science trainer, knowledge of the dance form and a proper background in dance is crucial.
"Something like this often comes from a very personal place. If you are not a dancer or haven't learned or practised it diligently, then you wouldn't understand the kind of pain it entails and kind of effect it has on one's body. Without personal experience on one's own body, understanding the situation of another dancer's body might not be authentic." she informs.
As a student of SNU and a daughter of such supportive parents, Bhargavi feels she is lucky. She was not just blessed with all this guidance and positive support, but also a door to her true self, her beloved dance.
"Dance is who I am. It is my identity, and now with dance science, I finally get to do what I love. It's a blessing in itself!" she smiles.
Bhargavi is among the thousands of students who have flourished under SNU founded by the Shiv Nadar Foundation. With almost 1,800 students the university in synch with the foundation's principles believes in identifying, nurturing and creating the leaders of tomorrow. Here, the focus is not just on the curriculum but on the students. The institute provides a platform that is intellectually stimulating and challenges students to truly be the best version of themselves!