Nothing stopped Sudha Devi at the age of 30 to begin with education and become a hero for herself and others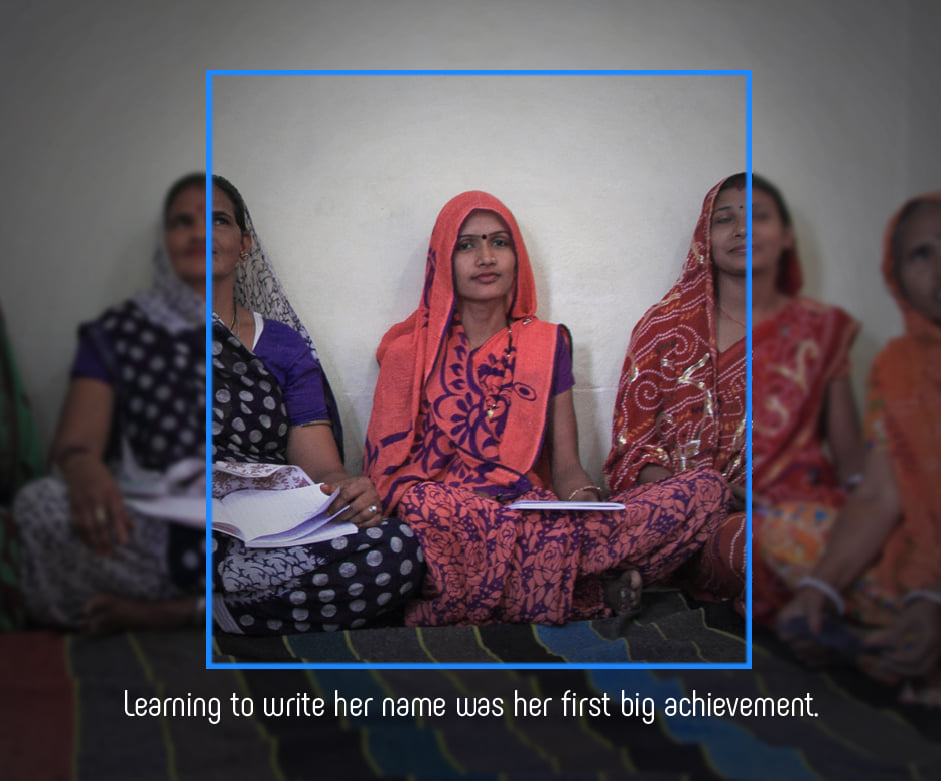 Sudha Devi was a woman with an independent spirit trapped under the shortcomings of the society. In her village, Wair in Sikandrabad, UP, being illiterate is a social reality for many women, just like Sudha.
Despite that, Sudha would step out of the threshold of her home, and run a cosmetics shop with her sister. Yet, every time, a customer came to the shop, she would have to call her husband, father-in-law, brothers or children to help her with the billing.
It was time-consuming, embarrassing and did not help Sudha in her bid to be independent.
So, when a Shiksha+ instructor came home to convince her to enrol in the adult literacy classes, Sudha and her entire family welcomed the idea. This was her chance, she realised.
The Programme
Shiksha initiative was started by Shiv Nadar Foundation in 2012 with the objective to with an aim to eradicate illiteracy from India, with the help of an easily replicable, scalable and measurable model. The programme has, so far, impacted 25,000 students in 500 schools across India.
Shiksha+ is one of the literacy intiatives under Shiksha, which has reached out to almost 2,000 adult students in the past 2 years. Using Information and Communication Technology (ICT), this initiative is enhancing their learning experience, making it relevant and applicable for them.
Sudha's Struggle to Get an Education
"If you want to gain something, you have to put in an effort. I had my usual work to do – looking after the family, the children. My sister's husband is sick so I have that responsibility also. And there's my shop to care for," says the 35-year-old Shiksha+ student.
She would wake up at the crack of dawn to catch an extra hour to study, and then study from 10 to 11 PM. To let her daily work or problems interfere with her education was an option Sudha was not ready to entertain.
It was this determination and thirst to learn that set her apart from other students. Slowly, her instructors decoded reading, writing and arithmetic for her. They even taught her to read an inch-tape, and manage electricity bills.
According to them, Sudha was not just a fast learner, but also extremely motivated one.
After every class she would stay back to clear doubts. She would also finish the chapter at home, and start on the next one. Despite her busy schedule, Sudha didn't miss a single class in the 4-month long programme.
"My first achievement was when I wrote my name. Gradually, I started going to the bank to make deposits, withdrawals and taking care of all finances. Now, I can also read medicine labels and recognise if anything has expired. Even with my children, I can now contribute to their education," smiles a triumphant Sudha.
For Sudha, these individual achievements soon culminated into a complete transformation, making her truly independent. She was now a confident entrepreneur who was not just running the shop but had also set up a tailoring business as well as a dairy products shop.
From inventory, accounts to billing, Sudha could now do it all, and soon became an inspiration for other rural women, pushing many to the Shiksha+ classes.
"I'm running my life and my business so well now. I feel a strength within myself and it feels great," she exclaims.
With her life at this juncture, Sudha wants to continue studies while cherishing her precious independence. Kudos to her!