Soumya is grateful for having found her greatest inspiration, something that adds real meaning to her life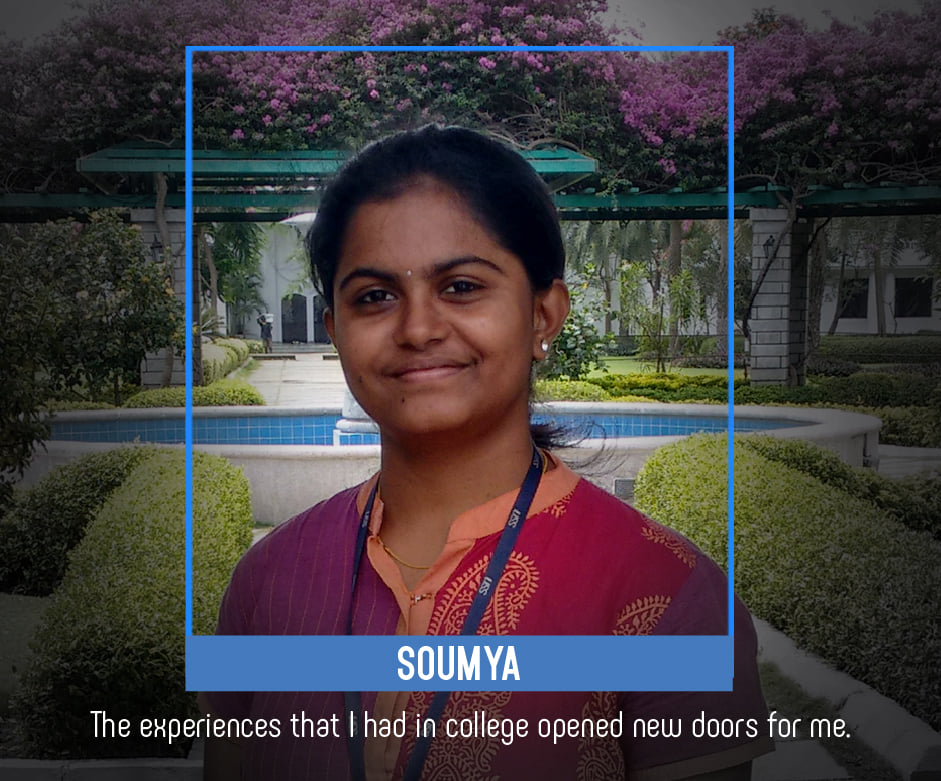 Soumya was always a good student. A gem in the eyes of her teachers and parents. But there was more to her than just that.
She liked studying but wasn't studious. She had a mature outlook of the world, but also had a child full of spirit inside her — still figuring out which dreams to chase.
"I don't think I was ever a studious kid. Instead, it was more about chasing the knowledge of things. I loved books because they were my window to the world," shares Soumya, who moved from her village, Kallakampatty, to Madurai to complete her Class 11 and 12 as there was no senior secondary school back home.
It was at this time, that her dream to pursue civil services strengthened. "Initially, I thought of taking up arts as many preparing for civil services would often choose this line. But my teachers and parents encouraged me to keep other options open by pursuing engineering, a decision that turned out to be extremely rewarding for me," she adds.
So after graduating from school, she joined SSN College of Engineering, a place that would let her explore education with a multidirectional approach.
Founded by Shiv Nadar, chairman of HCL Technologies, in 1996, SSN Institutions is one of the top institutes in India, striving to revolutionise education, by introducing and encouraging interdisciplinary endeavours among its students. It is a part of the Shiv Nadar Foundation that aims to bridge the socio-economic gap in society by empowering individuals.
"The freedom to balance my technical course with whatever I wanted to, is something SSN gave me and I'm always grateful for that. While managing my regular classes, I also joined the Tamil literary club on campus, participated in NSS for social service activities, and got the opportunity to intern with a Tamil news magazine, Vikatan, as a student journalist. This rich and diverse pool of experience helped me in the later years to pursue my dream in civil services," says Soumya
She adds that her experience as a journalist had a profound impact on the person she eventually became, "I was serious about civil services, and before working with the government, I wanted to work on the outside first. The internship allowed me to come up-close with grassroots issues and the ground realities of various communities in society."
Soumya, who now holds the position of an Assistant Commissioner of GST, undergoing training in Faridabad, believes that her journey so far would not have been a success, if not for SSN and its faculty.
"The confidence to do what I wanted to do with my life is the greatest boon that I have got from SSN. It allowed me to meet so many great yet humble minds. The kind of experiences that I had being a part of NSS and Saaral Tamil Mandram opened up new doors to see myself, what I wanted and what I didn't," she says.
Back in 2012, when she joined SSN, Soumya was not only given this opportunity to study at this institute, but SSN rewarded her mettle with a scholarship for the next three years (2013, 2014 and 2015).
After college, unlike most students, she did not sit for placements. Instead, she continued studying for the next two years and passed her civil services exam with flying colours.
As a token of her gratitude to the institute, Soumya dedicated her first salary to the SSN alumni scholarship scheme, a programme that had helped her sail through the college years without any financial strain.
"Being a woman from a not-so-developed area and wanting to do not-so-conventional things in life has its challenges in our society. You need to prove your worth every time to get something you deserve. Sometimes I have cried, sometimes I have fought, and most of the time I don't care too much. That's how one overcomes these things – there is no standard operating procedure (SOP). Sometimes I found out that I could do certain things just because I was told I couldn't do them," she adds.
Soumya, like many bright students of SSN, perfectly embodies the principles of the Shiv Nadar Foundation – to make a mark in the world, not just through personal but public good as well.