A passing interest in Artistic Skating turns into a deep connect for Arun, who is now a recipient of several global accolades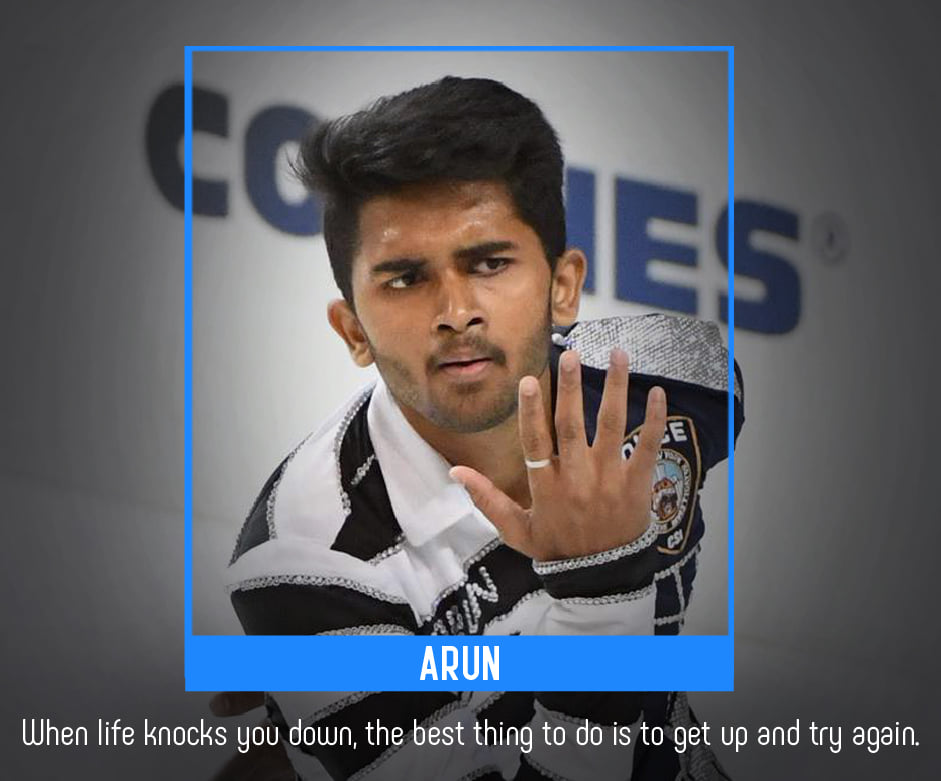 As an 8-year-old kid, when Arun Sathianarayanan travelled overseas to the US in 2006 to visit his mother, little did he know that he would come back burning with his life's purpose.
His mother, a research scientist working in the field of biochemistry, was living in the US and had taken Arun to visit Niagara Falls. While almost all the tourists gaped at the overwhelming beauty of the falls, young Arun found his attention fixed on another kid roller-skating. It was love at first sight. "I knew I had to learn to skate like that!" he recalls.
The same year, after coming back home to Chennai, Arun convinced his parents to buy him a pair of roller skates. His father enrolled him in a two-month beginners course at Marina beach, and since then he has continuously excelled in the niche field of artistic roller skating.
"After the first few months of beginner's training, my mother's friend at the Roller Skating Federation of India told us about Pavan Kumar Akula who was a professional coach and a national champion from Visakhapatnam. I've been training under him, since then," adds Arun, who specialises in artistic skating in the solo dance category.
Now 21, he already ranks number 1 in India, number 2 in Asia and 11th in the world in the area of artistic roller skating!
His first national-level gold medal came after just two years of training, in 2008. That was the beginning, and since then he has been dancing, spinning and leaping his way to success, through thirteen national, three Asian and three world championships.
But, with such a brilliant career in skating ahead, he still decided to pursue engineering. "It's true that skating defines me, but my love for mechanical engineering is also extremely strong. My father has a business in the automobile sector, and I remember being fascinated with the ideas that went into the creation of such brilliant technology. Someday, I want to be able to create as well, working in the product design side," he shares.
And this dream was later translated into action when he joined SSN College of Engineering in 2016.
One of the major reasons for Arun joining SSN was to be able to create a harmonious balance between engineering and skating.
And the decision has been rewarding.
"From being allowed time to practice, to having the freedom to participate in competitions, without any worry of missed classes or attendance, SSN and its faculty have been a constant support throughout. Be it extra revision classes or notes, my classmates and teachers have helped me every step of the way, bringing me up to speed every single time. That sort of psychological support is crucial to perform well, and many of my major achievements took place after joining SSN," he adds.
Founded by Shiv Nadar, chairman of HCL Technologies, in 1996, SSN College of Engineering is one of the top institutes in India, striving to revolutionise education, by introducing and encouraging interdisciplinary endeavours and leadership qualities among its students.
Arun, who is now in his final year of Mechanical Engineering hopes to pursue an MBA, and represent India in roller skating, whenever possible. "Hopefully, by 2024, the Olympics will include this sport so that I can participate. Before that Asian games are coming up in 2022, and I'm excited to know if I can represent my country in this sport. For that, I continue to hope and practice!" Arun concludes.
Like many such multi-talented prodigies of SSN, who strive for success not just for themselves but also the society, Arun too hopes to eventually coach many such children in Chennai, and be the flagbearer of artistic roller skating in India. Creating a leader like him is yet another of Shiv Nadar Foundation's many principles.