Like all students that pass under the mantle of the Shiv Nadar Foundation, Malai too has a deep desire to give back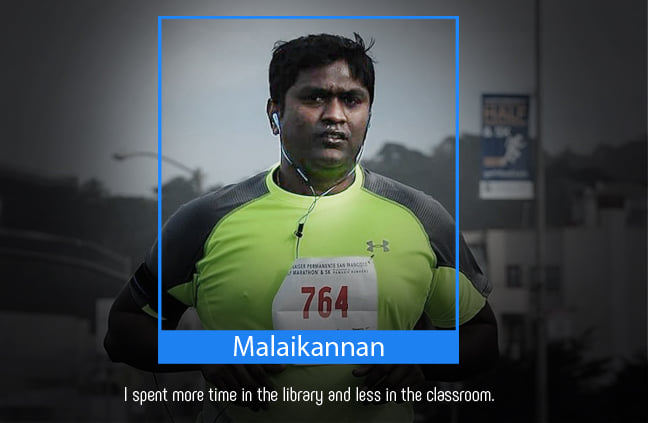 Many might call him studious, some a bookworm, but Malaikannan says that he was lucky to have found the best of both worlds. These included one with his friends on the playground and one in the charming world hidden inside a library.
"Growing up, our father pushed us to follow a set routine — get up early in the morning, read the newspaper, and make notes of new words or interesting phrases in our notebook. Honestly, I never found this routine to be overwhelming. Rather I enjoyed it. I would especially love reading the opinion pieces there. I feel father's methods helped me be what I am today," says 36-year-old Malaikannan Sankarasubbu, who grew up in a middle-class family, in Srivilliputhur, in the outskirts of Chennai.
At Malaikannan's home, where he lived with his parents and his younger brother, education always held importance – a key to the world of opportunities.
Today, Malaikannan is the Vice President of AI Research at Saama Technologies, Silicon Valley, California.
"We come from a very humble background of farmers. But my father wanted to give us a better life for which he had to give up on a lot, especially his education. In 1975, when he moved to Chennai, he had to find a job and abandon his studies to support the family," he shares.
However, after a few years, with the support and motivation from his sons, Malaikannan's father finally decided to complete his formal education. When Malaikannan was graduating with a degree in engineering, back in 2004, his father was also completing his BA in Political Science, through distance learning.
Malaikannan shares that his journey from Srivilliputtur, a village in Tamil Nadu, to the Silicon Valley, is the outcome of his father's sacrifices and support.
He says that it is not just a matter to be proud of but also something to take inspiration from. He adds that this decision by his father further motivated him to perform better and do his best into carving a successful career.
"Studying was never a forced activity in our house, it was an interesting endeavour of learning new things. And that's why, when our father decided to enrol our names at the Connemara Library. He encouraged us to spend each summer vacation reading new books, and it didn't seem like a bad idea. Every year during vacations, from Class 4 to Class 11, I would make a train trip, almost regularly, to the library. At one point, when I had exhausted my reading choices, I would spot white-bearded individuals in the library and randomly walk up to them, asking for book recommendations. That way, I got the taste of various genres rather early in my life," laughs Malaikannan.
"People might think that my world revolves around books, but it's not true. I could maintain a balance. I was like any other kid, but with a little more sense of responsibility and maturity. This was because I knew about the financial condition of my family, and the sacrifices my father made for us," he recalls.
And so, when his dreams to pursue medicine came to a sudden halt, he decided to change course and persevere to become a successful engineer. His hard work paid off when he got through Sri Sivasubramaniya Nadar (SSN) College. But, till then, Malaikannan had never even touched a computer!
"At SSN, students could avail a 50 per cent discount on an HCL computer, so after joining SSN, I availed that option, and it was like a new world. The vast library, laboratories, high-speed internet, everything was new to me, and I was extremely excited and motivated. And, what made it better is how the college treated us, not as young students but adults. Plus, the excellent faculty encouraged practical learning and never restricted us on how to learn. I remember spending more time in the library and labs than in the classroom," he recollects.
Founded by Shiv Nadar, chairman of HCL Technologies, as part of the Shiv Nadar Foundation in 1996, SSN College of Engineering is one of the premier institutes striving to make a positive difference in society by imparting education to students from diverse socio-economic backgrounds.
Now living in the US, doing cutting-edge work in Artificial Intelligence, Malaikannan is one of the many alumni that make SSN very proud.
In 2016, he raised 3 million dollars for his company Datalog.ai to build better Virtual Assistants using Deep Learning. His tryst with entrepreneurial exploits dates back to his college days when he had aided the Tamil Nadu State Planning Commission to automate Panchayat billing and accounting systems. Malaikannan's current area of research is Natural Language Understanding (NLU), one of the hardest areas in AI Research. His team has published five papers in the past one year on Pharma and NLU.
Talking about his primary inspiration, the entrepreneurs or the new age freedom fighters as he likes to call them, Malai adds, "I have had the opportunity to interact with Shiv Nadar. I am amazed by his clarity of thought and approach to problems. He doesn't need to run the Shiv Nadar Foundation, but he is doing it as a way to give back to the community." Like many before him, Malaikannan hopes to follow the founder's footsteps in giving back to society.
'Deep Learning is applied in a lot of fields like astronomy, self-driving cars, facial identification, accelerating clinical trials, etc. I wanted to make sure that I give back to my roots in India. I, along with a few others, founded the Indian Deep Learning Initiative (IDLI) a Facebook group, to spread knowledge and awareness about AI in India, which now has about 10,000 members," he says.
Currently working on creating a community around Natural Language Understanding tools for Indian languages, Malaikannan feels this has the much-needed potential to bridge socio-cultural gaps.
"Communities are beautiful things. I can't solve all the problems in the world, but through communities, I can motivate others to take up the challenge," smiles Malaikannan.
One of the first initiatives by The Shiv Nadar Foundation, the SSN Institutions have been driving social change through education for the last few decades now. Under the tutelage of the foundation, students like Malaikannan have grown up to be leaders with the ultimate aim to transform the country for good! Find more about the foundation here