This modest young man is not one to rest on his laurels, he is clear that his journey has just begun!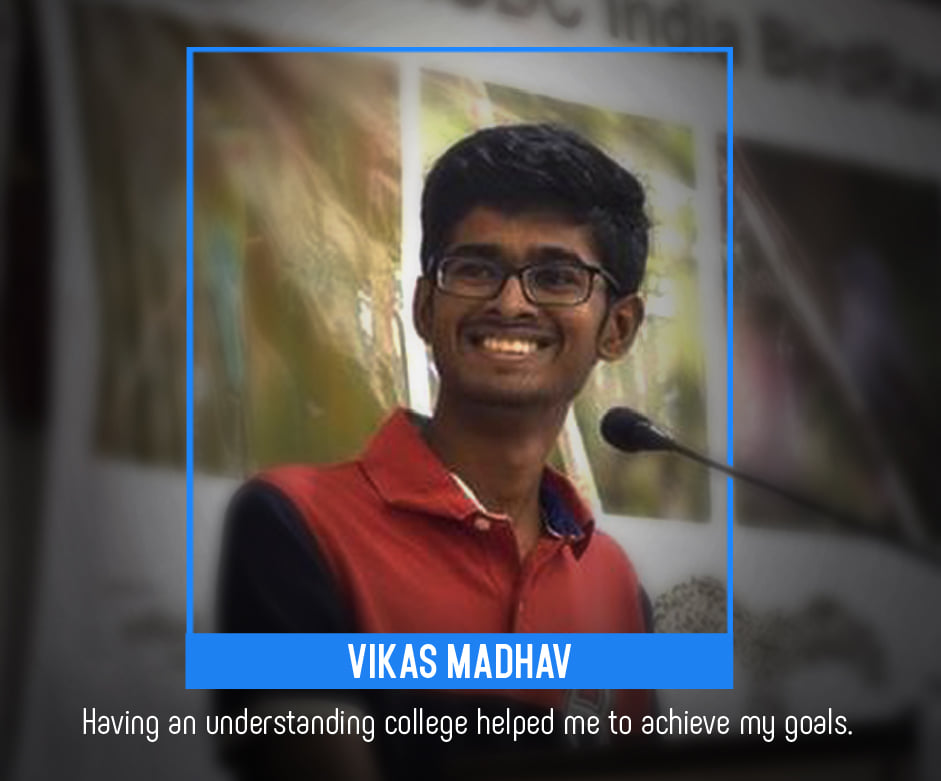 As the complexities of algebra took over, students continued to frantically scribble in their notebooks, hoping to arrive at the right answer.
However, amid this crowd, sat a boy in a corner, looking out of the window. His seemingly effortless gaze into the world outside might have appeared to be an act of absent-mindedness, or even in defiance of the teacher or class. But that was not true.
He too was in search of the right answer, just not the conventional one.
Meet Vikas Madhav, a 20-year-old ornithologist and naturalist, who is currently one of the most reliable and vital resource points for prominent organisations like Sanctuary Asia, Madras Naturalistic Society, and the World Wide Fund for Nature (WWF).
"I discovered my interest in birds when I was in Class 1. My grandfather was in the marine division of the Zoological Survey of India. So our house was filled with interesting books on nature and its beings. Growing up, these books became my window to the fascinating world outside, hiding unimaginable beauty in plain sight," says Vikas in conversation with The Better India.
As he grew older, Vikas began to spend his weekends climbing mountains, or combing jungles of remote parts of Tamil Nadu, as well as Uttarakhand, the Western Ghats, the North East — all in pursuit of discovering rare species of birds, butterflies or moths.
Looking back, he points out an incident that set the cogs in motion.
"I had spotted a different kind of bird outside the house, and was captivated by its beauty, and I wanted to know more about it. I was only a kid, and with no one around to help me, I ravaged my grandfather's books in search of an image similar to that bird. After searching for hours, I finally found out that the bird was a woodpecker. I was happy but not satisfied because that action of turning all those pages and seeing the pictures of all those incredible birds only made me hungry for more. It was like opening a pandora's box, and I wanted to see all those birds in person!" he says.
However, keeping this passion alive in a world which still relies mostly on conventional education within the ambit of four walls, could have been difficult for Vikas.
His long trips to the jungles might have often collided with exams or assignments, making it difficult for him to follow through.
However, none of this turned out to be true in his case, thanks to the Sri Sivasubramaniya Nadar College of Engineering (SSNCE). Founded by Shiv Nadar, chairman of HCL Technologies, in 1996, SSN Institutions is one of the top institutes in India, striving to revolutionise education, by introducing and encouraging interdisciplinary endeavours among its students. It is a part of the Shiv Nadar Foundation that aims to bridge the socio-economic gap in society by empowering individuals.
"Firstly, the campus was a bonus because the ecology within its walls is just incredible. Moreover, the faculty understood my passion and helped me every step of the way to pursue it along with engineering. It is hectic for sure, but the freedom I get to conduct my surveys, leave at early hours, manage assignments, and exams, is truly precious. I wouldn't have managed if I didn't have such an understanding college," says Vikas, who is a third-year student of Chemical Engineering at SSN.
He adds that his pursuit for science and mathematics, along with the broader scope of environmental engineering as an option for higher studies drew him to Chemical Engineering.
"I did not want to dissect animals or insects and so studying Zoology was not an option. I wanted to pursue environmental studies in the later years, and Chemical Engineering seemed to be the best path to do so. If I hope to conserve and protect the environment, I need to know the root cause of its degradation," he adds.
Vikas has a long list of accomplishments, and his work has been widely acclaimed for its authenticity and accuracy.
In 2010, the Oriental Bird Club, UK published his sighting of the Indian Skimmer, a species which had not been spotted in Tamil Nadu in the last 160 years.
Owing to his work in aiding conservation and wildlife analysis, Vikas was awarded the Young Naturalist of the Year award by Sanctuary Asia in 2014.
He started to collect data on butterflies (in addition to birds) in 2015 and has now expanded further to moths. He contributes his observations through citizen science to the NGOs who use it towards conservation activities.
In 2016, he worked with the forest department of Sathyamangalam for a year, identifying 116 butterflies and 186 birds. This survey conducted by Vikas was the first of its scale after the one conducted almost 30 years ago. At the time of the survey, Vikas was in Class 12.
For SSN alone, he has managed to document over 135 species of birds, 65 species of butterflies and 40 species of moths.
A list of water birds compiled by him from the Odiyur Lagoon in Cheyyur was used extensively by organisations seeking to save the lagoon from destruction.
His findings uploaded on portals like Butterflies of India have also helped him collaborate with scientists working in the field.
Under iNaturalist, a citizen science project and online social network of naturalists, citizen scientists, and biologists supported by National Geographic, Vikas along with a few like-minded individuals has opened a page, called Biodiversity of Chennai this year. Till date, they have collected data on almost 1,400 species of plants, insects, birds and fungi.
From receiving a citation in 2010 from the National Biodiversity Authority of India to being the Tiger Ambassador for Tamil Nadu in 2015, Vikas is a prodigy who wants to dedicate his entire life to the service of nature. Now planning for his Masters in Environmental Engineering, this inspiring man hopes to make history eventually.
Vikas is yet another SSN student out to make his mark felt in the world, like the many others before him. Although these brilliant individuals come from diverse fields, they all have one thing in common – a platform that brings them together – Shiv Nadar Foundation