Manoj Kohli – Country Head of SoftBank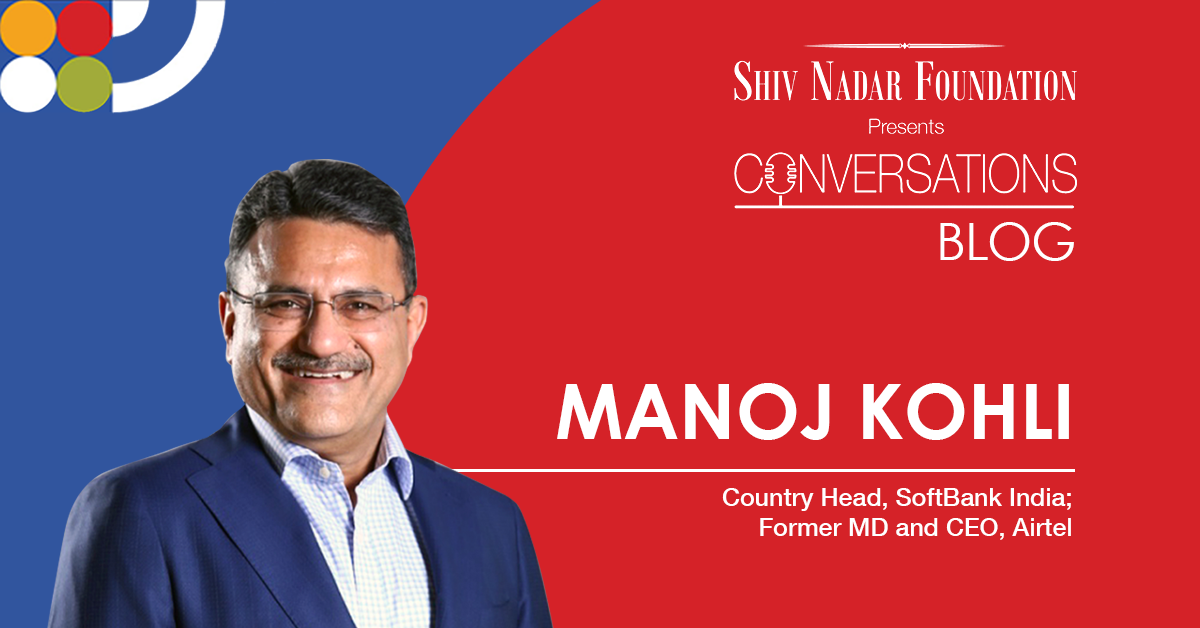 Manoj Kohli – Country Head of SoftBank India;
Former MD and CEO, Airtel
In Conversation with Sundar Mahalingam, Chief Strategy Officer, Shiv Nadar Foundation and HCL Corp.
With over 40 years of experience in the corporate sector, in functional roles, as a P&L manager and now coach and mentor of young entrepreneurs, Manoj Kohli could well be a formidable figure. However, his ready smile and easy demeanour made listening to him chat on Shiv Nadar Foundation's Conversations event a treat. He was a fount of knowledge, not just about his varied career but also about the right attitude to make businesses successful.
From DCM to starting Airtel in India to now working with Softbank on renewable energy, his journey has been fascinating. He's worked in the US, Europe, Japan, China and more. In Africa, he had 55 nationalities working under him, forming a high quality, cross cultural experience. In HCL, there are over 100 nationalities of employees, so we identify with this!
Mr Kohli spoke animatedly of his 20 years in the telecom industry, in particular the inception of Airtel, along with Sunil Mittal – building an Indian corporation from the ground up into a behemoth with customers in 20 countries of the world. They did this in a non-traditional way, creating a unique business model that depended on outsourcing and franchising everything, envisaging a strong brand identity and facilitating a non-hierarchical performance culture that empowered and trusted the young team to deliver.
Airtel's rural effort was immense, reaching five lakh villages in India. Mr Kohli personally led this, and it was hugely gratifying. He told us this story, 'We stopped in a small village near Kasargod where we had launched the service a week before and I saw an old man sitting outside the door of his little hut talking on the phone, and he was crying. I asked why and the man said, "I could never dream that I would talk to my son in Dubai from a phone in my house!" That was the day I felt the societal impact of what we'd done.'
The transition to Softbank was socially relevant, too, besides being an exciting career move. Working with renewable energy like solar and wind plants is the future of India, he believes. And now, Mr Kohli works with 20 digital businesses of the company which are using AI to disrupt traditional business models. These companies include Ola, Paytm, Lenskart, Grofers and more. He helps young founders and CEOs to grow their businesses through better business models, aiding them in resolving bureaucratic issues and guiding them to scale up faster, which is a crucial step. He describes these young entrepreneurs as 'young, passionate, with great ideas, high knowledge and experience of technology. They want to build big corporations. If change is made proactively, that's better.'
Mr. Kohli advises all the budding entrepreneurs and students from the Shiv Nadar Foundation's institutions that the right outlook is to combine traditional Indian values like hard work, humility and honesty with modern technology. Work with an open and flexible mind and a hunger to get somewhere. Think of your customer deeply – how is customer behaviour changing? And then modify your app, your services, your business model and bring it closer to the customers' heart to make it more profitable. The digital world is here to stay, and digital transformation is the way forward.
'The COVID pandemic is a temporary situation, it will pass. Look at this crisis as an opportunity.
We must build ourselves into stronger and fitter people, with bigger aspirations, plan for business in a new way, with new business models that combine online and offline, and new markets.'
Click here to watch the entire video.