Arun Sarin – Former CEO of Vodafone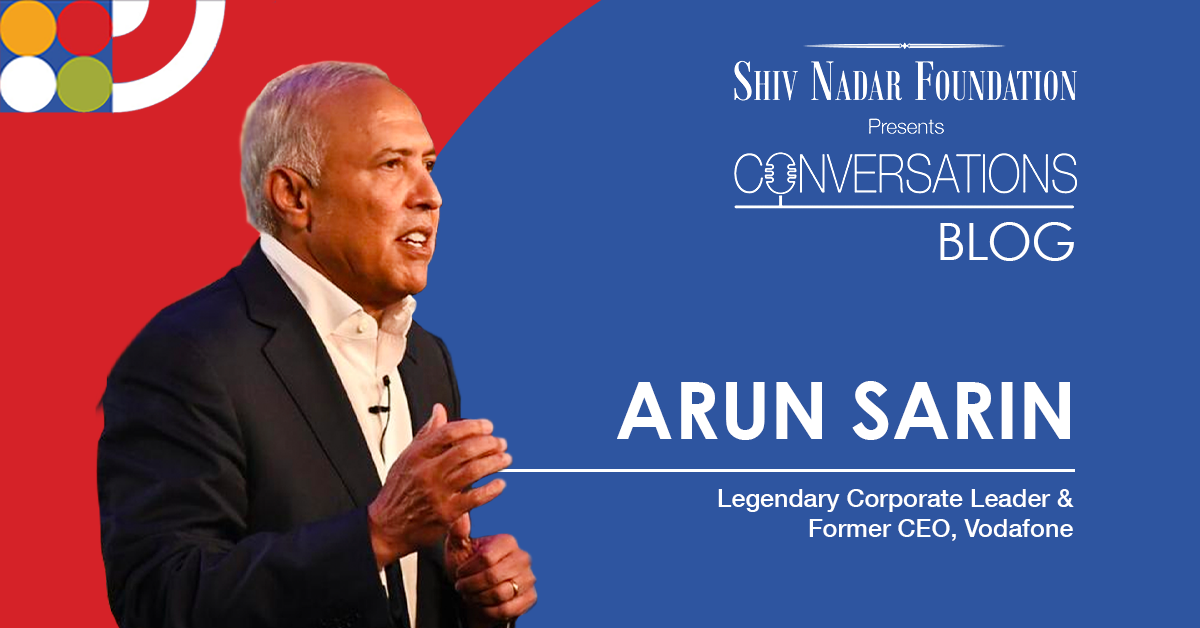 Arun Sarin- Former CEO of Vodafone
Legendary corporate leader, Former CEO of Vodafone and on the boards of many large global organizations
In Conversation with Saurav Adhikari, Senior Advisor, Shiv Nadar Foundation.
If there is a poster boy for Indians who've made it in the global corporate scenario, it's Arun Sarin. With foresight, financial genius and an unerring business instinct, this former CEO of Vodafone has had a brilliant career that's an inspiration to all of us. During the Shiv Nadar Foundation's Conversations event on Facebook with him all the way from California, we got a glimpse of his life and thinking.
Growing up in an army family and military school in Bangalore, the rigour of academics and athletics was drummed into him early on. At IIT Kharagpur, he thrived in the intellectual environment. At UC Berkeley, doing a masters in engineering, it wasn't hard to find a footing academically, because of the way Indian education prepares one. The sports and fitness have enhanced his success too. He says, 'You have to work 70-80 hours a week for 30 years to make it big in any field. People underestimate how much physical and mental stamina you need for this. So from boarding school till now, I exercise regularly, make sure the stamina is high. That what gives you consistent performance.'
Arun went on to join a company called Airtouch which was bought over by Vodafone in 1999. His job was to predict how big the telecom industry, still in its infancy at the time, could become. After a good back of the envelope analysis, Arun came with a figure that seemed huge: that 10% of the population would use cell phones. The disbelievers even claimed that it was a service which only the rich would use! 'But I was off by a factor of 10: 100% of the people in this country have phones. The lesson here is, in the early stages of things, don't get hung up on the precision of things. Whether its 8% or 10% or 30%, it doesn't matter, as long as you can move quickly to grab the opportunity.' Which they did, grabbing up the licenses well before they became prohibitively expensive. Arun was now CEO of Vodafone, and their success allowed him to expand the company's footprint expanded globally. The rest, surely, is history
Now Arun is on the board of several global organizations. He sees the current situation with the pandemic through an optimistic lens. He believes that we are all in the same storm, but in different boats, and that we have to help those who are medically, economically and socially affected. And we have to examine the various opportunities that have arisen due to the situation, too. We at the Shiv Nadar Foundation and HCL have the same attitude.
Arun said that he was pleasantly surprised to see how many people in the companies he is involved with are working from home and that productivity is at 95% because of cheap 4G, wifi, VPN, cyber security etc. 'The entire infrastructure existed before but we hadn't tried it…now we have and we know work can be done in a different way. It's a net positive for society.' The fields of telemedicine and tele-education which had not really taken off before, this could be a blessing in disguise, he feels, providing access to quality health and learning for the those in need and in remote areas, closing gaps between the rich and the poor. For someone who has built cell phone systems from 1G to 5G, these are dreams fulfilled.
The solution to the COVID problem will only happen at the intersection of various disciplines, Arun asserts – diagnostics that involve not only medicine, but engineering and business modelling too. This was the difference between the education he had in India and in the US at the time, as Berkeley was a full-fledged university where students of different subjects could come together to look at problems from different angles. However, Arun was delighted that at Shiv Nadar University and other institutions of the Shiv Nadar Foundation take a multidisciplinary approach to provide a holistic view of the world to students venturing forth.
Click here to watch the entire video.