Shubha Mudgal – Veteran Hindustani Classical Vocalist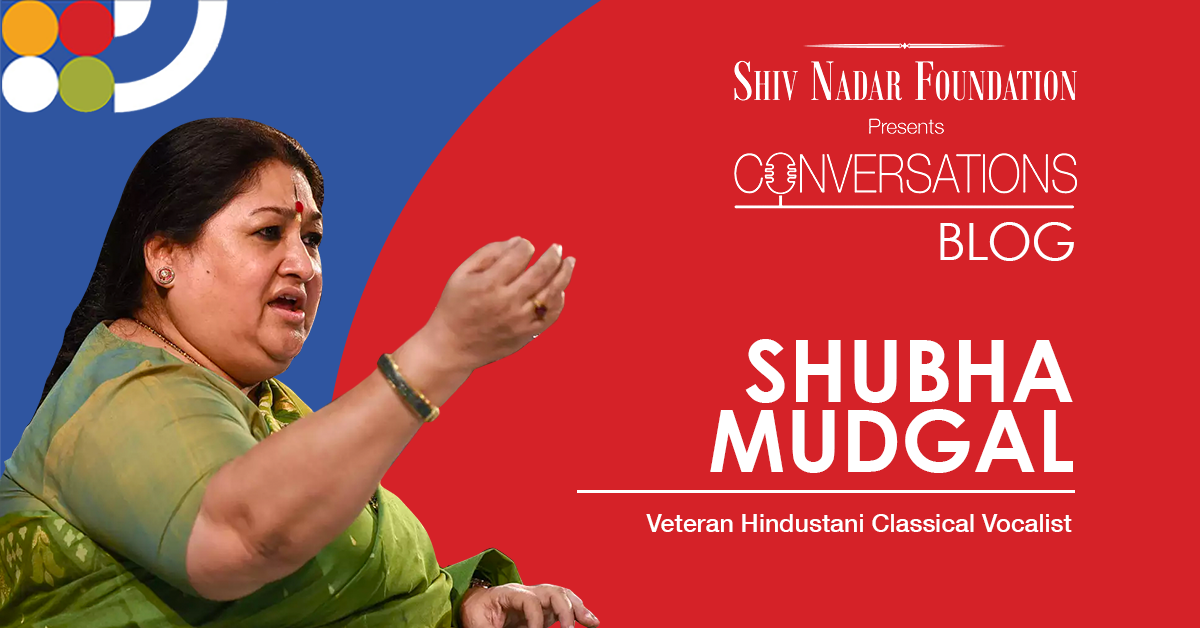 Shubha Mudgal
Veteran Hindustani Classical Vocalist
In Conversation with Nikhil Soni (Senior Manager, Shiv Nadar Foundation and HCL)
After Ab Ke Sawan became a hit, Shubha Mudgal became a household name. Her versatility (a classical singer doing a rock fusion number is a case in point), and her ever flowing creativity have made her hugely popular.
Shubhaji had a lively chat with Nikhil Soni for Conversations, Shiv Nadar Foundation's Facebook Live event, where she inspired the large number of viewers from across the Shiv Nadar Foundation family and beyond with her articulate ideas and regaled us with her splendid voice.
Shubhaji considers herself a lifelong learner, something she has in common with the Shiv Nadar Foundation's educational philosophy. Her learnings are musical and non-music related too. The importance of learning to take constructive criticism and discarding the rest is one. For instance, she had people coming up to her and asking why she didn't do more music like Ab ke Saawan, because they didn't like her later work. She said, 'Artists have to reinvent themselves- why should they keep doing the same sort of music?' She felt grateful that she's always had the support of her family and gurus, who have also been her biggest critics; and of course of an audience that has been open and accepting of the diverse directions her work has travelled in, be it classical, pop, rock, or Kabir music.
Technology has been the other big learning curve she has traversed. She outlines the difference between being an observer and being a learner. She is from a generation that grew up listening to music played on cassettes, and noted or memorized compositions rather than recording them on iPhones. When she had to begin engaging with the newer technology, she did it as a silent, non-participative observer for the first few years. But slowly, her confidence grew, and she transitioned into being a learner – using technology to serve her purpose, but not becoming a slave to it. For example, she still uses her acoustic tanpura, but she also has a tanpura and tabla app! Apps which allow her to teach her students online allow an important connect during the lockdown. "We comfort each other using technology,' she said. She hopes technology will come up with a way she can sing with her students without a time lag.
However, she feels that through the younger artists are harnessing technology and social media really well, a large part of the community still needs to learn how to use it better, in a way that is comfortable and suited to their work. This requires a little hand holding. She feels the HCL concerts do this very well. Shubhaji says, 'For an artiste it is very reassuring to know that someone cares about them and that thousands are willing to listen to the HCL Concerts.'
Advice for budding singers? Shubhaji has three important things to say:
Follow the traditions of your guru. Your training is highly customized for you, it's not a mass pedagogy
You are first a student of voice, and then a classical or sufi singer; so keep watching your breath and voice all the time; learn its strengths and limitations
You need to be a student of life…if you don't say hello to your neighbor, if you don't watch the tree outside your house and listen to the music its leaves are making—you will miss out
The learnings never end, and the artiste's compassionate soul seeks to share. Shubhaji, along with some friends has started a campaign called ADAA (Assistance for Disaster Affected Artists) to raise funds for 100 impoverished artistes all over the country. She appealed to our listeners to spare a thought for them, too.
The generosity and wisdom of Shubha Mudgal, as well as her enduring music which we heard snatches of made the lockdown a little easier to endure for many of us.
Click here to watch the entire video.