H.E. Freddy Svane – Ambassador of Denmark to India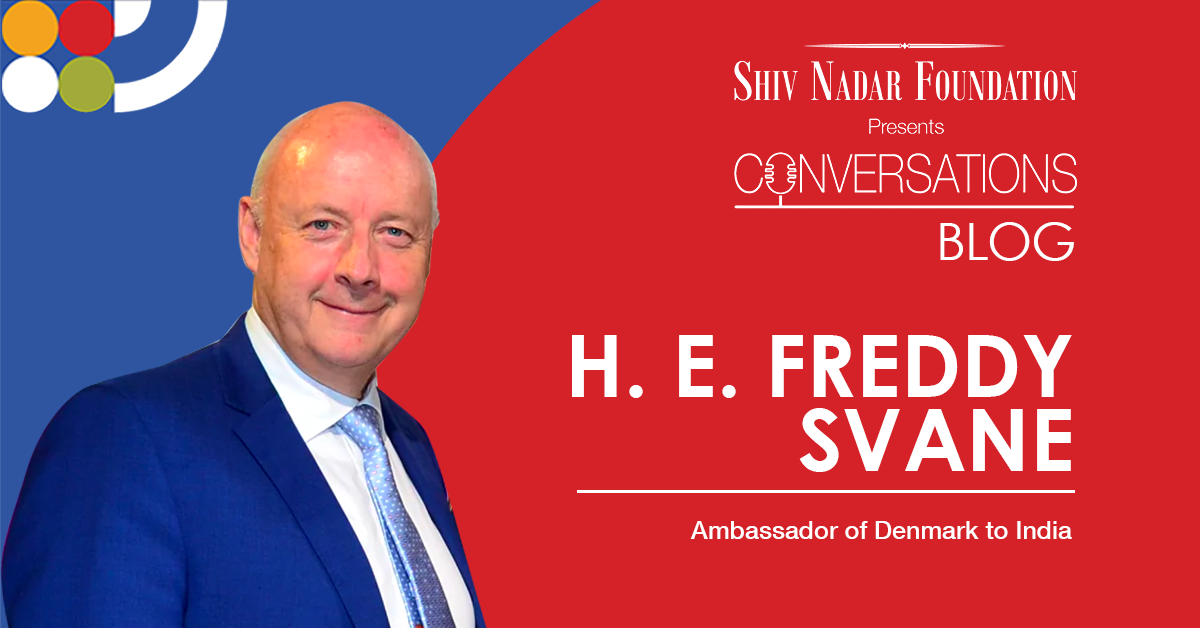 H.E. Freddy Svane – Ambassador of Denmark to India
In Conversation with Siddharth Mallavarapu, Professor and Head, Department of International Relations and Governance Studies, Shiv Nadar University
Hans Christian Anderson's famous story The Emperor's New Clothes is an obvious allegory about pomposity, power and its hollowness. His Eminence Freddy Svane explains how it was thought for generations that the famous Danish storyteller was writing for children, but now it is agreed by all that his lovely fairy tales were addressed to adults as well. This and many other fascinating subjects were covered in the Shiv Nadar Foundation's Facebook Conversations event with this lively personality who has represented his country in India, China and many more cultures vastly different from his own.
The predominant thread running through the conversation was the importance of taking responsibility for oneself, one's community and country. The manner of this might differ due to culture, geography, scale, even how individualistic a population the nation has, but nevertheless it is an important concept in today's fraught times. He highlighted the sense of family and community he has seen in India since he came here for his first stint in 2010. 'First I thought of India as a country, then a nation, and then when I left I called it a living civilisation.' An admirer of how well India is handling the COVID-19 pandemic and also of certain initiatives of the present government, he mused that he was impressed that they are now working towards not just reducing poverty, but 'eradicating' it.
Denmark itself is a fascinating country, and we in India could learn much from its citizens' and government's attitude towards important subjects like climate change, education and governance. Mr Svane described how in the 1970s, they found themselves with a shortage of fuel which they sourced from the Middle East. The entire country came to a halt. Refusing to be so dependent on anyone, these remarkable people revived a traditional technology they possessed, using turbines to generate electricity. Today, Denmark leads the world in this technology – they call it a 'wind win'. More than 45% of all electricity consumed in Denmark in the last year was generated by wind. They also use several other renewable energy sources. One can imagine how low their carbon footprint is. This endears all of us at the Shiv Nadar Foundation to Denmark, as we believe in sustainability as an essential value. Mr Svane says Denmark is eager to collaborate with India to bring this technology here. 'It again comes back to responsibility,' he says. 'Climate change is a huge responsibility.' He pointed out that living in harmony with nature requires commitment- nature is not only climate- it is also pandemics and natural disasters, so this attitude is definitely relevant to us now.
Topping the world on the World Happiness Index, Denmark's 6 million population, although smaller than some neighbourhoods of Delhi, is dedicated to their shared vision of creating a basic framework that allows people to prosper. This means that people, whatever their income, shouldn't have to worry about basic education, healthcare and a universal application of the principle of equality.
Going a step further, Mr Svane described the philosophy of Danish education, which aligns with what we at the Shiv Nadar Foundation believe is the driving force in our institutions of learning: nurturing curiosity. Students are encouraged to ask questions to build insights and knowledge, and nudged to think out of the box. Learning is not a one way passing down of information from the teacher to the student. 'In Denmark we are good at freeing people's talents. We don't like to put people in boxes, and we encourage free thinking.' This idea of education is filtered down from a priest-philosoper, N. F. S. Grundtvig, who, 250 years ago, insisted he wanted every citizen of Denmark, even farmers and peasants, to be able to study. Not necessarily through a formal system of marks and exams, but to come together and learn in a new way from each other, which is an incredible manner of learning.
Click here to watch the entire video.