Dereck and Beverly Joubert Award – Winning Wildlife Conservationists and Film-makers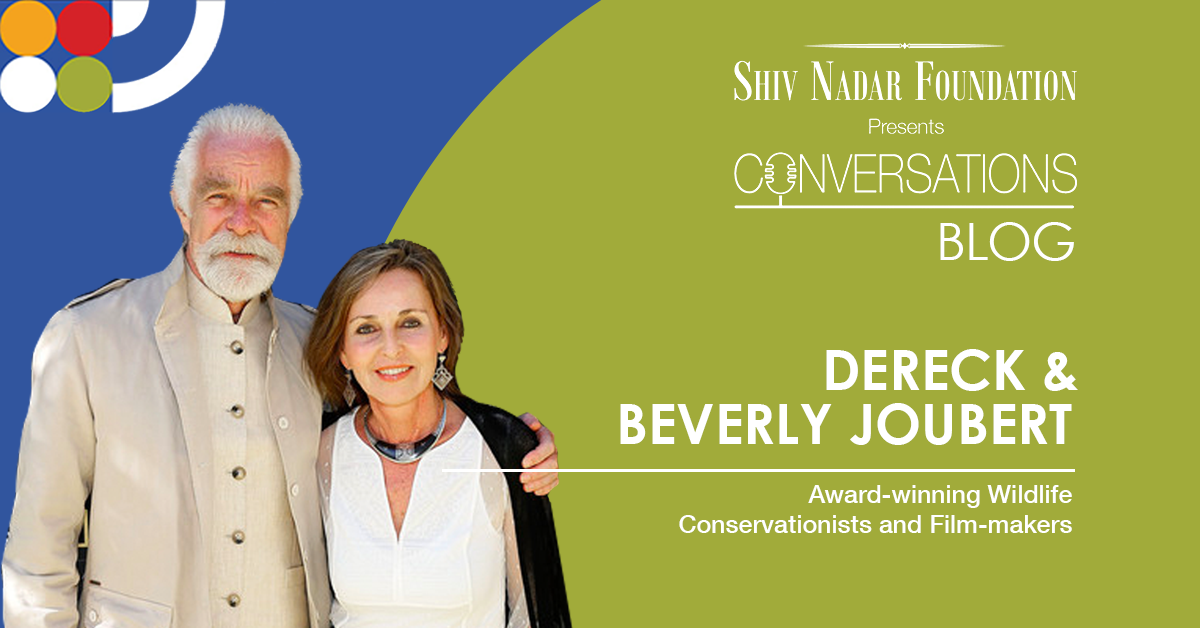 Dereck and Beverly Joubert
Award-winning Wildlife Conservationists and Film-makers
In Conversation with Roshni Nadar Malhotra, Trustee, Shiv Nadar Foundation; CEO, HCL Corporation; Vice-Chairperson, HCL Technologies; Founder and Trustee, The Habitats Trust.
During Shiv Nadar Foundation's event Conversations, Dereck and Beverly Joubert laid out the facts loud and clear. 'When we were born, there were 4,50,000 lions on the planet and today there are 20,000. Leopards have gone from 7,00,000 to 50,000; only 8000 cheetahs are left in the world and elephants have reduced from 3 million to under 4,00,000 in Africa. African rhinos have dwindled to 20,000 and of the glorious black rhinos, only 4000 remain in all of Africa.' These alarming figures are something this remarkable couple, conservationists and filmmakers (he is a cinematographer and writer, and she is an award winning photographer) have been fighting against for over forty years, since they met in high school. In the course of their adventure, their momentum and passion led them to a long and productive association with National Geographic , producing films, books and photographs that have spread their message to a billion people in 127 countries and counting.
Listening to the Jouberts talk about their work, and watching clips of their films and photos, the Shiv Nadar Foundation family and other viewers got a sense of how deep these two people's understanding of the human relationship with nature was. Through baby leopards adopting them, to being attacked by a wild buffalo which hurt Dereck but impaled Beverly, they have continued to champion their beloved cause to save the wild places of Africa. Their optimistic and positive outlook gave their listeners hope, and they explained that although the animal numbers have reduced, public awareness has gone up, in particular among the youth.
Initially, the Jouberts focused on lions, elephants, rhinos and leopards, with the thought that if the big species are protected then the effects will be felt down the chain. However, now their emphasis is on protecting habitats, corridors, and ecosystems which are crucial to the survival of animals on the brink. They have acquired large tracts of land in Bostwana for this purpose through their Great Plains Foundation, and have been able to stop hunting completely in some of these areas.
The Jouberts have several exemplary initiatives. Since Rhinos are in extreme danger, the Jouberts have, with the help of the Botswana government, relocated 100 rhinos onto a private reserve where they can be protected and a new population grown. They work with indigenous communities to educate them so they can become partners in conservation, generating employment and managing human animal conflict. For example, the Masai community in Kenya were killing forty lions a year because they attacked their livestock – after the intervention, only one lion has been killed in the last four years. They had a programme for young women to go to India and learn solar board electronics. These women went back to their villages which are completely off the grid, gave power to their people!
One of their most urgent and unique projects among the 130 projects they have in Africa, is Project Ranger. This involves the creation of a fund that will supplement the salaries of 5000 rangers who are the front line of defence against poachers. During the COVID crisis, the salaries of these rangers would be cut, and sheer desperation and poverty could cause the community to return to the old ways of hunting animals to earn a living. In order to prevent a 'poaching pandemic' later on, Project Ranger aims to at least maintain the status quo.
As for the present pandemic, they have definite thoughts. Dereck says, 'For first time in history we can directly connect our relationship to nature. The wet markets have caused a global economic collapse. This will lead to a tourism collapse, affecting communities and leading back to the poaching path. And the products are going back into the wet markets. This is a cycle we must break.' Beverly says, 'It's given us a chance to hold a mirror up to ourselves and make amendments to have a healthier way of living and eating. We shouldn't worry about ourselves but look out and see how we can assist the planet.'
The Jouberts advise us to focus on the positive and come out of this as better versions of ourselves. Their counsel is that if we don't change anything, we will have wasted this opportunity to press the reset button and redefine our relationship with nature.
Click here to watch the entire video.