Kailash Satyarthi – Nobel Peace Prize Winning Activist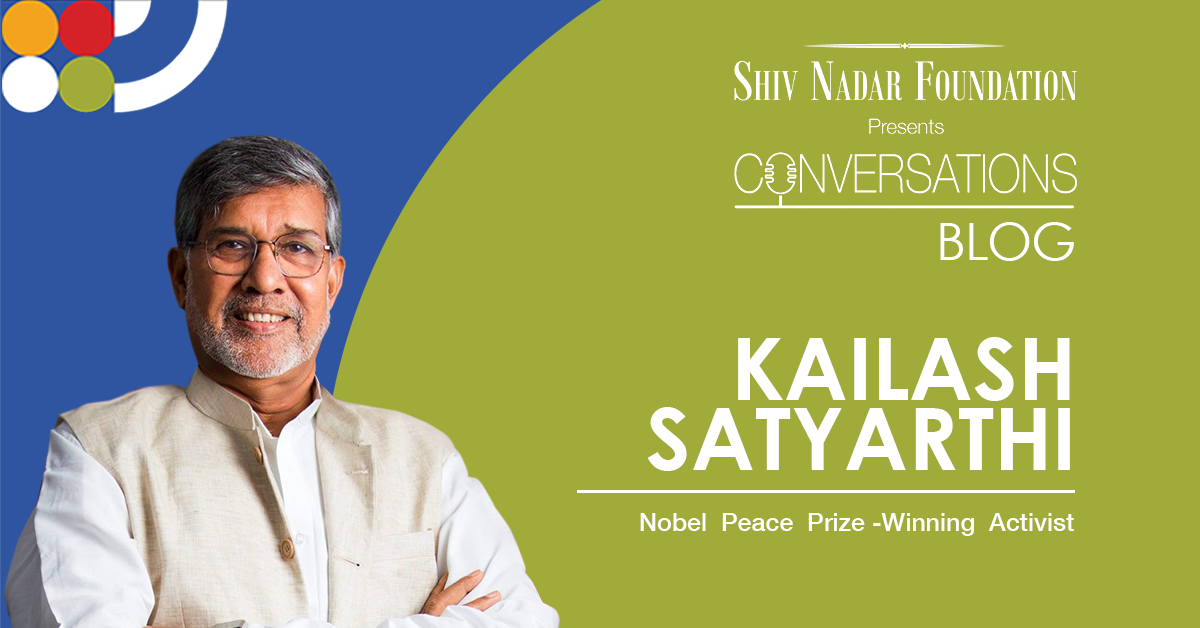 Kailash Satyarthi, a Nobel Peace Prize winning activist
In Conversation with Nidhi Pundhir, Director, HCL Foundation
When Kailash Satyarthi started his work with children in the early 1980s, he had to convince the people around him that pity and charity were not the right approaches to deal with huge issues like child labour and child abuse. It had to be looked at as a child rights, or a human rights problem. This perspective was mirrored in the United Nations Convention on the Rights of the Child (UNCRC), which came into being in 1990 and to which India is signatory. Since then, this remarkable activist with his NGO, Bachpan Bachao Andolan, has achieved near impossible numbers of rescues of children from dangerous and life-threatening situations and delivered them into education and the chance at a better life. For this, he was awarded the Nobel Peace Prize (sharing it with Malala Yousafzai) in 2014.
In the Shiv Nadar Foundation event Conversations on Facebook, he spoke to Nidhi Pundhir, who heads the HCL Foundation, which itself works in the area of child rights. It was an honour for everyone in our institutions to hear Mr Satyarthi's thoughts on the unusual circumstances we are in during the lockdown and the pandemic, and how they are impacting children and people in India.
Respect, compassion and gratitude were the constant threads in his conversation: parents of children who are safe and well at this time must make the effort to become friends and open channels of communication with their children; it is not enough to just buy them what they want to wear or eat. Respect them, build mutual trust and make space for them to tell you what is in their hearts, so their emotional burdens and abuse, if any, can come out.
On the other hand, children of migrant workers, daily wage and migrant workers, children with disabilities, or children of people with disabilities, children of sex workers, and in villages, the landless agricultural labourer's children, are extremely vulnerable at this time. For if their parents lose their sources of income, children are in danger of dropping out of school or becoming bonded labour, entering child prostitution or trafficking. Mr Satyarthi has been in touch with policy makers at the highest levels, urging them to guarantee continuation of employment and social security for these children's parents.
People are depressed, abuse and violence are rampant, and child pornography viewing has increased but there is good work happening too. At a time when everyone is suffering together, whether rich or poor, high or low caste, we are interconnected and that a solution can come only if we all work together as a global community. He says, 'This is the right time to globalise compassion, to exercise and learn gratitude. Khatre ko karuna mein badal sakte hain.'
The ordinary person is emerging as the hero: not only health workers and police, but cleaners and vendors too. 'We have to realise that whatever we are today is because of those millions and millions who work day and night to build our nation – colleges, schools, homes, bridges, road, markets, factories etc. I'm not talking about pitying them, but being grateful to them. If we generate that sense of gratitude, eventually build a culture of gratitude, that there are so many people known and unknown who make our lives what they are – then maybe sharing, moral accountability will grow. Then maybe we can become a new type of society, and a better India can emerge.'
The danger in a post-Covid world of course is that nations' priorities will change. In this scenario, children's issues must be kept alive and their voices heard. Money should not be diverted from education to other things. If you move money away from equitable and quality education of children, you will perpetuate poverty and discrimination.' He urges the government, the corporates, religious leaders, influencers and civil society to push children's rights' agendas at this time, protect our children today. At the Shiv Nadar Foundation we are committed to catalysing solutions for such issues and all our institutions teach the value of giving back to society.
One of Mr Satyarthi's very quotable quotes captures his philiosophy best: 'There is no greater violence than to deny the dreams of our children.'
Click here to watch the entire video.