Swanand Kirkire – Award winning Lyricist, Actor, Writer & Playback Singer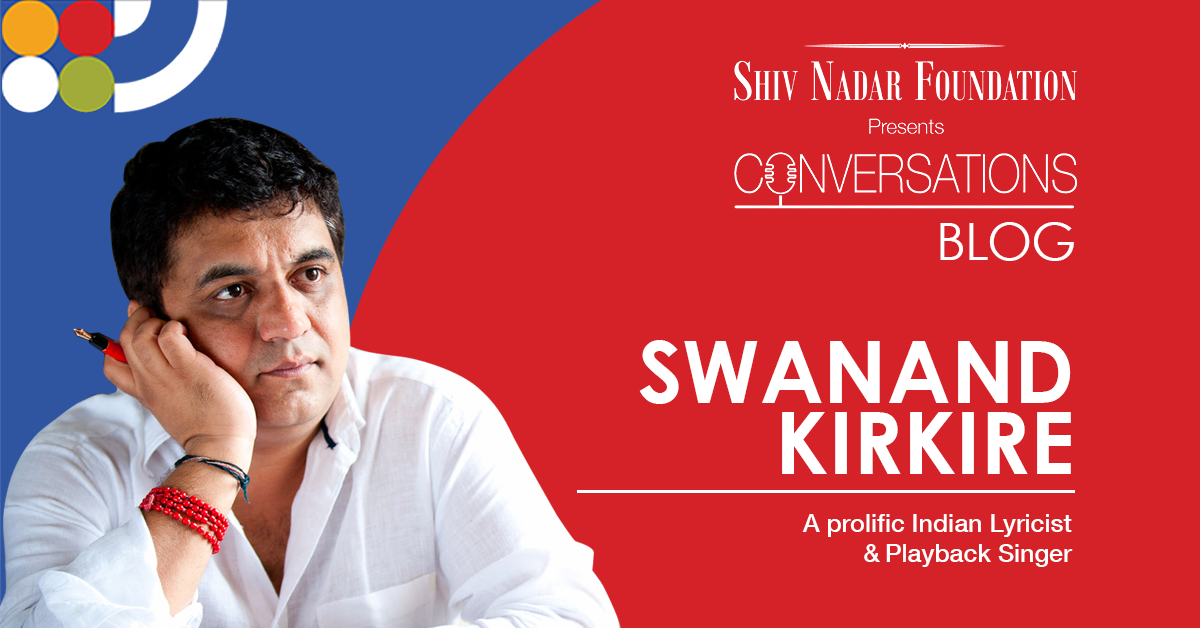 SWANAND KIRKIRE – Award winning Lyricist, Actor, Writer & Playback Singer
in Conversation with Vaibhav Budhraja, Head, Marketing, Shiv Nadar Schools
Swanand Kirkire is a man with something to say. Easy going, funny and of optimistic disposition, he communicates his thoughts and ideas beautifully through multiple channels: writing music, singing playback, directing for the theatre, acting and much more. This madly talented person rails against slotting oneself into just one role, and revels in being multidimensional. 'If I'm writing a song, I itch to direct the film; if I'm directing, I itch to act in the film… It's ok to be who you are. It's ok to be a banker and a cook.'
Swanand is from Indore, and his parents were classical musicians, but he never trained formally as he wasn't that interested in music. He gravitated towards the theatre and studied at NSD, giving that intense educational experience, that 'gem from the Nehruvian dream' the credit for making him who he is. 'The distance from Indore to Bombay may not be much in physical terms, but the mental distance is a lot. That can only be crossed by knowledge. By the time I came to Bombay I was a full-fledged artiste because of NSD.' Knowledge is something we at the Shiv Nadar Foundation prize above all else, so this resonates with us!
Once he was at NSD, his musical side asserted itself, too, which happens when you move away from your roots – you see them better for what they are. At some point he decided to shift to Bombay, and began assisting the director Sudhir Mishra in his films. He did everything, including sweeping the sets. Sudhir Mishra and the music director (and good friend) Shantanu Moitra gave Swanand his first shot at being a lyricist. Shantanu then decided that there was no one better to sing that song that Swanand himself. Thus was born that remarkable song, Bawra Mann, a lyrical masterpiece. Swanand says, 'I was very scared after that – do I how to write on order? I had to deliver 6 songs!' But write he did, and then followed hit after hit, from wonderful films like Parineeta, Burfi and Lage Raho Munnabhai, films that were made from the heart just like Swanand's poetic lyrics. Besides film music, he's written a book of poems and released an independent music album. He's inspired by the great lyricists of the past like Gulzar and Kaifi Azmi, but Billie Ellish is on his playlist too. Poetry is poetry – age or experience has nothing to do with it!
Of his own work, he says, 'Some songs you write, and some you really write—and you feel you have hit some mark or you have surprised yourself with that song.' Examples of these are 'raat hamari', 'khoya khoya chand', 'saavli si raat', and he also favours 'O re chiraiya' from the TV show Satyamev Jayate which was about female infanticide and created out of a surge of emotion. This award-winning lyricist is also an award winning actor now, having received the National Award for best supporting actor for the Marathi film Chumbak. It's no wonder the Hindustan Times calls him the Everything Man!
'At the moment we are in an extraordinary situation, so we have to act extraordinarily,' he says. He reminds us that we are connected, if not physically but through the internet, which is as much a product of globalisation as the Coronavirus. It is because of the internet, he reminds us, that he can be here, talking to the teachers, alumni, students and friends of the Shiv Nadar Foundation. As parting advice to creative individuals, he says, be your own worst critic and keep rejecting mediocre work. And keep the personal and professional separate, unless you're doing something just for yourself, in which case, to paraphrase Brecht, use the mood! And for everyone else out there, he says, 'Live in the present and don't worry about the future. Keep dreaming, keep thinking!'
Click here to watch the entire video.