Ustad Shujaat Khan – Sitar Maestro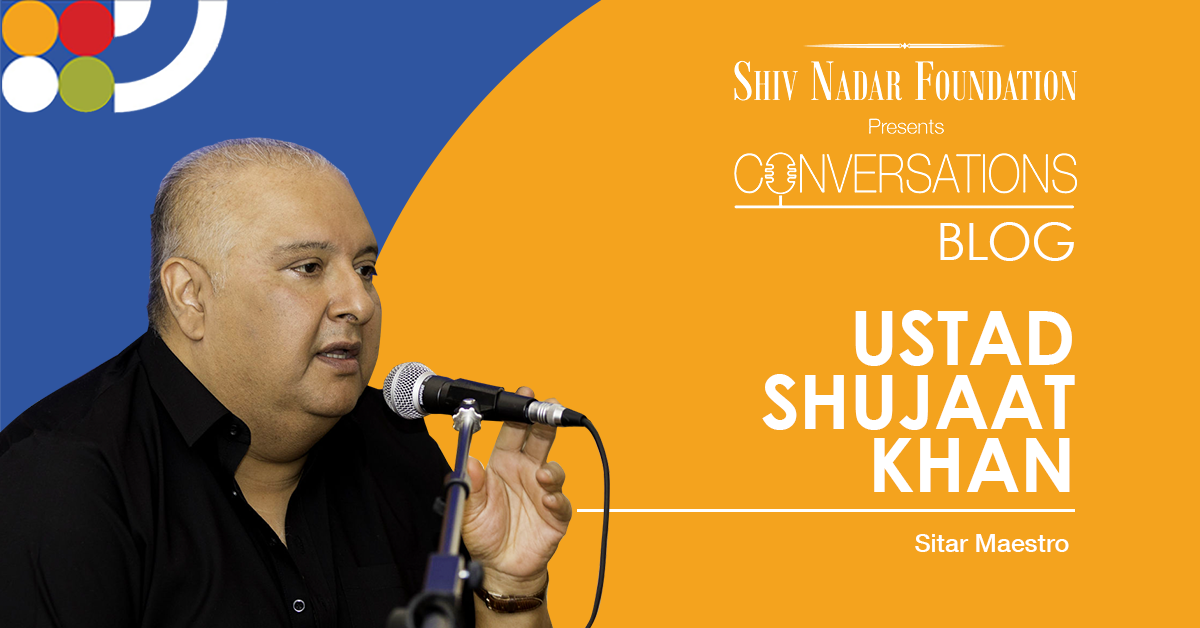 Shujaat Khan – Sitar Maestro
In conversation with Shashi Bannerjee (Principal, Shiv Nadar School Noida)
Being the seventh in line can be a tough burden to bear, but Shujaat Khan redeems himself marvelously. A man of generosity and openness, he embraces life fully. He may not have gone fully the way of his sitar-playing ancestors (including his father, the inimitable Ustaad Vilayat Khan), but he is but he has earned a name for himself as a musician who keeps the sanctity of the tradition alive, while simultaneously traversing a different path.
To him, the paths converge. Blessed with a mellifluous singing voice, Shujaat has experimented with semi classical music, collaborations and even Bollywood soundtracks. During a warm and inspiring chat with Shashi Bannejee for Conversations, an initiative on Facebook for the Shiv Nadar Foundation, he told his rapt listeners about when his song Lajjo Lajjo was released 25 years ago, it was a radical departure from the strict classical mold of which he was a beautiful practitioner (and still is). This song was a simple folk and Sufi composition he first heard sung by Munawar Khan Saheb, the son of the legendary Bade Ghulam Ali Khan. When he composed the song, blending individual expression and creativity with tradition, he caused more than a few raised eyebrows. The classical music community could not fathom why he was making this departure from his legacy. But now, years later, people still want to listen to that song and they ask him to play it.
Shujaat Khan has performed at Shiv Nadar Schools, which have music flowing through their veritable veins and a generation of students have been inspired by him. He likes the idea of involving young people in the classical tradition, but he's all about live and let live, believing that forcing young people into learning serious art forms drives them away. At the same time the rigor of any art or skill or sport is a reality; talent is simply not enough. It has to be honed and brought to people. Shujaat himself had a tough childhood in terms of the discipline of music training. Sometimes he would rehearse six or eight hours at night and then go to school in the morning. He says, 'But I don't want young people to get scared of this. I hope they realise I am talking from the point of view of a musician, talking about achieving something.' This 'single-minded achievement-oriented brain' is what makes Virat Kohli the cricketer he is and Shujaat Khan the musician he is. But that effort and the pain should be invisible to the listener.
The rush for recognition that many people have now is misguided, he feels. As for listening choices, he says categorically that people should choose what they like to listen to, whatever makes them happy, as long as it's not a corrupting influence, but a positive one. 'Indian classical music is the reality of your life, and inside, this tradition is flowing through our veins…you can't run away from it.'
Following in his father's innovation of the gayiki ang, when the musician manifests vocality on an instrument, Shujaat has reached the highest echelons of the musical field. He's worked with global artists, and his album The Rain with the band Ghazal collaborating with Iranian musician Kayhan Kalhor was nominated for a Grammy Award for Best World Music Album. His musical partnerships with a wide range of artistes from Karsh Kale to Hindustani vocalist Ustad Rashid Khan show his fearless nature, ready to welcome all that is offered to him. This same attitude of openness makes him proud of his son Azaan, despite him moving away from the tradition of performance to being a lyricist and composer for films as well as curating music for theatre and other such eclectic pursuits.
Shujaat Khan's message for us in these troubled times is as real and giving as the man himself: 'Over the last many years, we as a race have involved ourselves so much with technology, earning money, shopping, accumulating more money or getting more famous to cover up our real emotions. But its ok to feel them- doesn't make you weak or a lesser human being. Also, there's no need to waste. Don't take more than you need from the world!'
Click here to watch the entire video.