Seven UP students from humble backgrounds get dream ticket to US institutes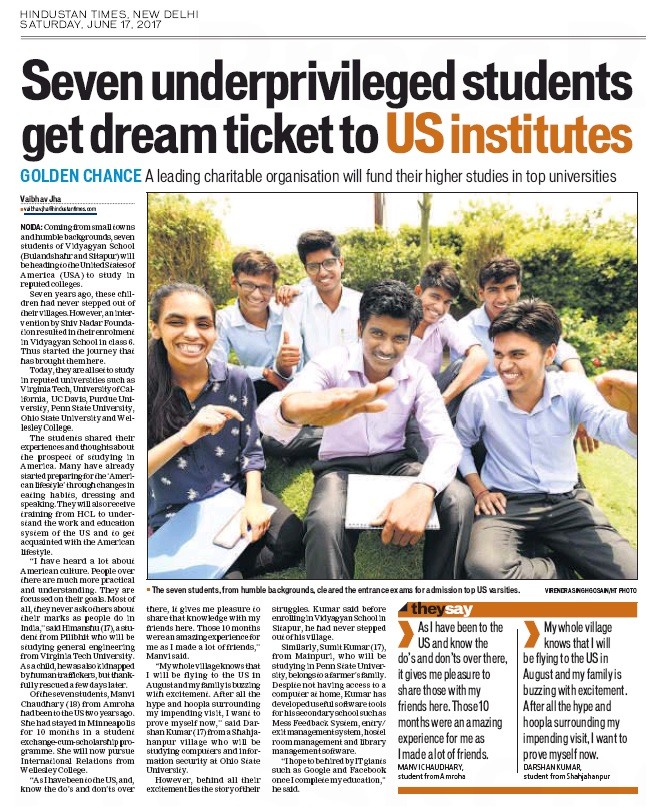 Coming from small towns and humble backgrounds, seven students of Vidyagyan School (Bulandshahr and Sitapur) will be heading to the United States of America (USA) to study in reputed colleges.
Seven years ago, these children had never stepped out of their villages. However, an intervention by Shiv Nadar Foundation resulted in their enrolment in Vidyagyan School in class 6. Thus started the journey that has brought them here.
Today, they are all set to study in reputed universities such as Virginia Tech, University of California, Davis, Purdue University, Penn State University, Ohio State University and Wellesley College.
The students shared their experiences and thoughts about the prospect of studying in America. Many have already started preparing for the 'American lifestyle' through changes in eating habits, dressing and speaking. They will also receive training from HCL to understand the work and education system of the US and to get acquainted with the American lifestyle.
"I have heard a lot about American culture. People over there are much more practical and understanding. They are focussed on their goals and are rarely intrusive. Most of all, they never ask people about their marks as people do in India," said Himanshu (17), a student from Pilibhit who will be studying general engineering from Virginia Tech University. As a child, he was also kidnapped by human traffickers, but thankfully rescued a few days later.
Of the seven students, Manvi Chaudhary (18) from Amroha has been to the US two years ago. She had stayed in Minneapolis for 10 months in a student exchange-cum-scholarship programme. She will now to pursue International Relations from Wellesley College.
"Those 10 months were an amazing experience for me as I made a lot of friends. As I have been to the US and I know the do's and don'ts over there, it is a fun experience to teach my friends here," she said.
"My whole village knows that I will be flying to the US in August and my family is buzzing with excitement. After all this hysteria, I want to prove myself now," said Darshan Kumar (17) from a Shahjahanpur village who will be studying computers and information security from Ohio State University.
However, behind all their excitement lies a story of their struggles rising from underprivileged backgrounds to eventually achieve a good education.
Kumar, whose father is a tailor, comes from a family of seven. Before enrolling in Vidyagyan School in Sitapur, he had never stepped out of his village. Similarly, Sumit Kumar (17), from Mainpuri, who will be studying computer engineering from Penn State University, belongs to a farmer's family. Despite coming from an impoverished background where he never had access to a personal computer, Kumar has developed useful software tools for his secondary school such as Mess Feedback System, entry/exit management system, hostel room management and library management software.
"I hope to be hired by IT giants such as Google and Facebook once I complete my education," he said.
*The article was originally published in Noida edition of Hindustan Times. You can read the article here: Noida: Seven UP students from humble backgrounds get dream ticket to US institutes