Skills to Lead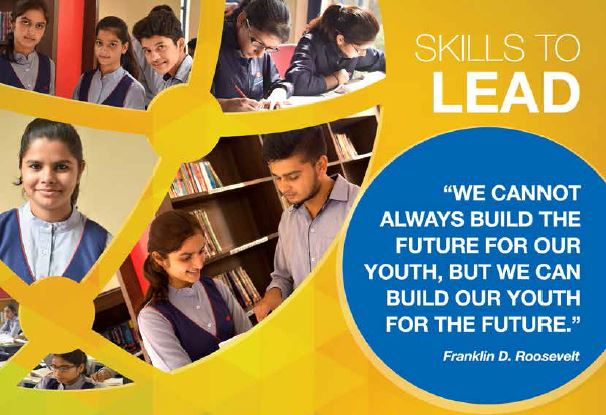 "We cannot always build the future for our youth, but we can build our youth for the future." – Franklin D. Roosevelt
The world is experiencing unprecedented change today. Across all spectrums of life, we are witnessing hyper-transformations, changing the very notions of how we live, think and interact. And the speed of change is only expected to grow in the coming years. As the world moves towards this unpredictable future, the need for strong leadership has never been more important.
Everyday in our schools, colleges, and workspaces, we endeavour to nurture today's generation to be tomorrow's leaders. The question that is often asked is what are the skills that are required for them to succeed in an uncertain future. It is but a forgone conclusion that conventional ideas and tools of leadership are no longer sufficient. We need to look at those unique qualities and skills that align with the emerging global order.
Ability to Adapt
One of the key skills for thriving in a changing environment is adaptability. As the pace of change steps up across the world, we are expected to witness the next big breakthrough much faster than the previous one. Imagine the abilities that a leader would need to continuously keep up with the changing trends which will define the needs and wants of tomorrow's world.
Different skills and expertise may be required at different times. But a mind that is flexible and willing to adapt would be valuable at all times. And this is a skill that comes with being exposed to different situations and environments. For example, people who move around a lot as children develop strong abilities to adapt to any sort of setup.
Being Disruptive
It has been repeated often enough but there is no doubt that disruptive thinking will continue to be the need of the hour. Adapting to change often requires creative thinking – the courage and will to explore unchartered territories. There are inherent opportunities in any sort of change. To recognise these, one must be able to think out of the box.
Children who have a sense of curiosity are more prone to venture into new areas; to go beyond the conventional in search of their answers. This ability to question and investigate is a powerful way to build disruptive capabilities. Minds who question are minds who innovate.
A Global Mind-set
Much has been said about developing global leaders – both within the business arena and without. What distinguishes them is their ability to work across geographies, cultures and languages, armed with an intelligent and varied global perspective. This is a capability best built at a young age. At a time when the mind is absorbing and learning from every experience, varied exposure is a must to build a truly broad world-view.
At the same time, we want our youngsters to step out into the world with tolerance and acceptance. Building a global mind-set needs more than a knowledge of international affairs and events. It needs a respect for other people's views and an ability to look at different sides of the coin. Exchange programs and international events & competitions provide the exposure and interactions for children to build this ability.
Social Responsibility
It is no longer enough to be socially conscious. We also need to understand and take on the responsibilities this entails. From poverty to climate change to gender inequality, these are some of the most pressing challenges faced by the world today. As we evolve, everything from technological advancements to political upheavals will continue to affect these issues in the future. We need leaders who make social impact a priority.
Such an attitude can only come when one feels a sense of responsibility towards one's community and people. It is only when we nurture such values in our children today that they would grow up with a spirit to create an impact tomorrow.
These are just some of the key skills and qualities we need in tomorrow's leaders. The larger picture is to start looking beyond technical and professional skills towards those softer aspects of personality development that are critical to deal with unprecedented and uncertain change. Good leaders develop their own styles. But with the right training, we can provide our children with the aptitude and attitude to lead.